New York Birth Injury Lawyer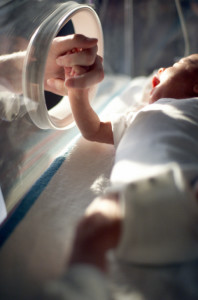 Every day there are roughly 76 birth injuries in the United States. Even though the quality of medical treatment in America is considered to be among the best in the world, accidents and mistakes do happen. New York City hospitals paid out $131 million in medical malpractice settlements in 2013 alone. Some of these malpractice cases included botched c-sections, the failure to diagnose jaundice and birth injuries such as cerebral palsy, Erb's palsy, bone fractures, and more.
New York birth injury attorneys at Eisbrouch Marsh understand that no amount of money can ever compensate for the heartache and hardship birth injury victims and their families have experienced, but we are here to lend a sympathetic ear and ensure that your voice is heard. By calling 1-800-737-8587, you can receive a confidential legal evaluation of your case free of charge. Our experienced NY medical malpractice lawyers will examine your medical records before, during and after delivery to determine if you have grounds to file a birth injury lawsuit. We rely on a vast network of medical professionals to help us expose liability in cases of medical malpractice.
Statute of limitations for New York birth injury lawsuits
Birth injury claims are beholden to filing deadlines set by state law, which is often referred to as the "statute of limitations." Usually, you suspect foul play right away when a perfectly healthy pregnancy goes south at delivery time. However, it may take several years for you to decide whether you wish to file suit or not. Also, certain developmental delays and disabilities may not be evident for several years after the birth of your baby.
In New York State, the statute of limitations is 2.5 years from the date of the malpractice. For claims brought against municipally-owned hospitals, the timeframe is even shorter – just 15 months. There may be exceptions to the rule, which is why legal counsel is so important in these cases. For instance, some birth injuries like cerebral palsy may not be evident until age three, so the plaintiff has 10 years past that point to file a claim.
Statutory damage caps on NY birth injury verdicts
There are no statutory damage caps for New York state birth injury cases. Caps rarely apply to medical expenses and lost income, so the absence of statutory caps means there is no limit to how much money you can receive for emotional pain and suffering. In New York State, you can sue public hospitals, private medical centers, VA hospitals, pharmaceutical companies, doctors, nurses, surgeons and anesthesiologists.
Standard of care in New York birth injury litigation
Our NY birth injury attorneys will work hard to prove that the medical staff tending to your infant did not practice a reasonable "standard of care." There is no medical definition for "standard of care," but generally speaking, the legal term refers to the type of care that a competent local health care professional with a similar background and experience would have provided in the same situation. Over the past 50 years, Eisbrouch Marsh has developed extensive ties with local medical experts, so their testimony can aid in your birth injury litigation.
Who can bring a lawsuit for birth injuries in New York?
Birth injuries may include an injury that can be treated and resolved or a lifelong physical and/or mental disability. You may be eligible to receive compensation for injuries occurring during vaginal or cesarean birth.
In NY, types of birth injury malpractice include:
Oxygen deprivation and failure to detect a compressed umbilical cord or ingestion of fecal matter
Mechanical trauma when a large baby cannot readily pass through the birth canal
Excessive or improper use of force with forceps, vacuum or tube insertion
Delaying a cesarean section during fetal distress
Improper or incomplete prenatal testing or monitoring leading to a difficult delivery
Compensable birth injuries include:
Oxygen deprivation
Mental retardation
Bone fractures
Cephalohematoma
Intracranial hemorrhage
Facial paralysis
Spinal cord injuries
You may have grounds to file a birth injury lawsuit in New York if your baby had any of the following signs:
Lack of movement on one side of the face and/or body
Cuts, bruises, lacerations to the head, shoulders or torso
A limp arm
Bruising or swelling on the head
Blue or gray colored skin
Labored breathing
Low APGAR score
Seizures within 48 hours of birth
Delayed milestones
Find birth injury attorneys in NY
We understand how dramatically lives can be changed by a trusted medical professional's lapse in judgment or complete negligence. We have over 50 years of trial experience under our belts, as well as a proven track record of successfully litigating medical malpractice cases.
Our compassionate New York birth injury lawyers will give you a realistic assessment of your case, and keep an open line of communication during this difficult time. By examining the case, assembling expert witnesses and pursuing the guilty parties to the fullest extent of the law, we will make sure the same tragedy does not happen to another family and help you recover compensation to pay off the mountains of medical debt you have likely accumulated.
Call us today for a free and confidential consultation.
New York Hospitals & Medical Centers:
New York-Presbyterian Hospital
525 East 68th Street
New York, NY 10065-4870
(212) 746-5437 ‎
NYU Langone Medical Center
550 First Avenue
New York, NY 10016
(212) 263-7300 ‎
Good Samaritan Hospital Medical Center
1000 Montauk Highway
West Islip, NY 11795
(631) 376-4444 ‎
Southside Hospital
301 East Main Street
Bay Shore, NY 11706
(631) 968-3000 ‎
Sisters of Charity Hospital
2157 Main Street
Buffalo, NY 14214
(716) 862-1000 ‎
Buffalo General Hospital
100 High Street
Buffalo, NY 14203
(716) 859-5600 ‎
Winthrop University Hospital
259 1st Street
Mineola, NY 11501
(516) 663-0333 ‎
St. Francis Hospital
100 Port Washington Boulevard
Roslyn, NY 11576
(516) 562-6000 ‎
Rochester General Hospital
1425 Portland Avenue
Rochester, NY 14621
(585) 922-4000 ‎
Monroe Community Hospital
435 East Henrietta Road
Rochester, NY 14620
(585) 760-6500
Good Samaritan Hospital Health
655 Deer Park Avenue
Babylon, NY 11702-1314
(631) 321-2100 ‎
Brunswick General Hospital
366 Broadway
Amityville, NY 11701
(631) 789-7000 ‎
St John's Riverside Hospital
967 North Broadway
Yonkers, NY 10701
(914) 964-4444 ‎
Saint Josephs Medical Center
127 South Broadway
Yonkers, NY 10701
(914) 378-7537 ‎
New York District Courts:
NY Southern District Court
500 Pearl Street, Room 120
New York NY 10007-1312
NY Western District Court
68 Court Street, Room 304
Buffalo NY 14202-3328
NY Western District Court
100 State Street, Room 2120
Rochester NY 14614
New York State Courts:
New York County Court
60 Centre Street, Rm 161
New York, NY 10007
Suffolk County Supreme Court
235 Griffing Ave.
Riverhead, NY 11901
Albany County Supreme Court
16 Eagle St.
Albany, NY 12207
Erie County Supreme Court
25 Delaware Ave.
Buffalo, NY 14202