Shoulder Dystocia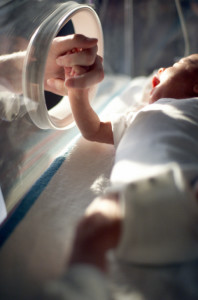 Eisbrouch Marsh are dedicated birth injury lawyers, leveraging decades of experience to help families in need. We understand the heart-breaking consequences of delivery room mistakes and misjudgments, and are committed to holding negligent health care providers accountable for their actions. Our legal team hopes that more attention is brought to the problem of preventable birth traumas caused by mismanagement of shoulder dystocia – an obstetric emergency for which every doctor should be prepared.
While there are known risk factors for shoulder dystocia, medical professionals are not always able to prevent or even predict this complication. First described in the early 18th century, shoulder dystocia occurs when one or both of the baby's shoulders become lodged against the mother's pelvic bones, thus trapping the infant within the birth canal. If swift and competent measures are not taken by the birthing team to relieve this situation, both mother and child can suffer irreparable harm.
Introduction to shoulder dystocia
During a normal vaginal delivery, the shoulders will emerge just after the infant's head. In order for this to happen, the baby's shoulders must rotate within the mother's pelvis – in corkscrew fashion – finding the most accommodating position to pass through. However, if the shoulders are too wide or the maternal pelvis is too tapered as to allow this rotation, shoulder dystocia often results. This delivery room emergency only happens during vaginal childbirth, and usually after 34 weeks' gestation.
A knowledgeable obstetrician, once presented with this scenario, knows that if the baby's shoulder is not freed within minutes the infant could sustain permanent brain damage and possibly death. This frightening complication, once recognized, is best handled with specific maneuvers including internal rotation, the McRoberts maneuver and other methods to facilitate normal delivery of the child.
Unfortunately, inexperienced or poorly trained birthing teams may make mistakes during this anxiety-provoking emergency. Pulling or excess traction placed on the baby's head and neck may result in brachial plexus injuries that require physical therapy and/or surgery. Damage to the upper part of the brachial plexus nerves leads to Erb's Palsy, while a lower brachial plexus injury is known as Klumpke Palsy. Both traumas can result in lasting disability.
Risk factors
There are many factors that are linked to an increased risk of shoulder dystocia, but unfortunately not enough for effective prediction.
Risk factors associated with shoulder dystocia include:
Fetal macrosomia (baby is overly large)
Maternal obesity
Maternal diabetes
Pregnancy with twins or triplets
Post-term (overdue) pregnancy
History of shoulder dystocia in earlier deliveries
Pitocin-induced labor
Forceps or vacuum-assisted delivery
If prenatal ultrasounds have determined a macrosomic baby (weighing over 9 pounds), doctors may recommend delivery through Cesarean section. If a C-section is not ordered, doctors must try and facilitate an expedient birth, in which the head to body delivery time does not exceed six minutes. Anything longer than this can pose a risk factor for hypoxic ischemic encephalopathy (HIE), a type of severe brain damage that is associated with cerebral palsy.
Delivery room maneuvers
Anecdotal evidence suggests that increased fetal weight is the most significant predictor for shoulder dystocia, as 10 percent of babies weighing over 9 pounds suffer a complicated birth. As soon as the emergency is identified, attending doctors will attempt to relieve the shoulders through one of the following actions:
McRobert's maneuver – flexing the mother's hips close to her stomach, which enlarges the pelvic cavity. Concurrently, suprapubic pressure is placed on the baby's shoulder allowing it to pass under the pubic bone.
Rubin maneuver – Rotating the fetal shoulder inward roughly 30 degrees until the shoulders lie in the oblique span of the pelvis.
Posterior arm delivery and manipulation – After an episiotomy is performed, the doctor will twist the baby's shoulders in a corkscrew manner, or attempt to deliver the child's farthest arm by sweeping it across the chest. This latter method may result in a broken humerus.
Proctoepisiotomy – In this procedure, the episiotomy is extended to the rectum in an effort to expand the birth canal posteriorly and allow for dislodgement of the shoulders.
Of all treatment methods, the McRoberts maneuver resolves more than 45 percent of shoulder dystocia cases; however, this method does not decrease the rate of fetal injury.
Shoulder dystocia complications and injuries
Heavy bleeding or hemorrhaging after birth, uterine rupture as well as damage to the vagina and cervix are potential maternal complications arising from shoulder dystocia.
Infants face risk of facial injuries, broken bones and nerve damage while doctors attempt to manage this delicate emergency. Injury to the brachial plexus nerves can lead to palsy or paralysis. In some cases, the problems resolve on their own with 8-12 months.
In more severe cases, the baby can be deprived of oxygen for several minutes, leading to brain trauma and death. Depending on the circumstances surrounding a shoulder dystocia-related birth injury, parents may have grounds for legal compensation.
The law firm of Eisbrouch Marsh specializes in birth injury malpractice litigation, including claims involving brachial plexus injuries, brain damage and other trauma caused by the mismanagement of shoulder dystocia. Our team thoroughly investigates all facets of a case to assess liability and potential compensation for related losses.
Families and their children may be entitled to damages for:
Past, present and future medical expenses
Rehabilitation and surgical costs
Lost wages
Loss of earning potential
Long-term disability
Emotional pain and suffering
Birth injury lawyers you can rely on
As the parent of an injured child, you probably have many questions about liability and what really happened during your labor. If your infant was diagnosed with Erb's Palsy, suffered broken bones or brain damage following a shoulder dystocia emergency, you may be entitled to compensation if attending doctors made mistakes.
Eisbrouch Marsh offer unsurpassed legal representation in a supportive environment and promise to get the justice you and your child deserve. To learn more about filing a medical malpractice lawsuit, please contact our offices today. We operate on a contingent-fee basis, so there are no legal costs unless win compensation on your behalf.