Study Shows Elderly Patients More Prone to Experience Diabetes Treatment Errors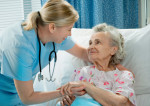 A new study has discovered another concern over potential diabetes treatment errors. Scientists have found a prevalence of overtreatment of diabetes in elderly patients that may result in dangerously low blood sugar levels.
Researchers studied more than 600,000 patients treated at 139 Veteran's Health Administration facilities during 2009. The patients, all 75 and older, received either insulin or sulfonylurea drugs, which are sold under commercial names like Glucotrol or Diabinese. Out of the 600,000 patients studied, more than 200,000 appeared to be treated overly aggressively with these drugs, which raised their risk for dangerous drops in blood sugar, a condition known as hypoglycemia.
Dangers of hypoglycemia
Hypoglycemia can cause serious side effects, including oxygen deprivation of the brain, unconsciousness and death. A study published in JAMA Internal Medicine last year found that between 1999 and 2011, 40 percent more patients were hospitalized with hypoglycemia than hyperglycemia (high blood sugar). Mortality rates after one year were also higher for patients admitted with hypoglycemia – 22 percent vs. 17 percent for patients with hyperglycemia.
In this current study, researchers used the V.A. diabetic guidelines to gauge whether patients remained at safe blood sugar levels while on these drugs. According to the guidelines, patients in this age range should have an A1c hemoglobin score between eight and nine percent. However, the majority of veterans studied fell well below these guidelines, indicating they were being treated too aggressively for their condition through doctor medication errors.
More than half the veterans included in the study scored below seven percent and nearly one-third scored below 6.5 percent. Ten percent scored six percent or lower. Those numbers are concerning, considered patients over the age of 75 often have increased risk factors for hypoglycemia already. All of the subjects in this study were at higher risk for hypoglycemia, due to their age, cognitive impairment and/or impaired kidney function.
Complexities of diabetes treatment
Hypoglycemia can be much more dangerous than hyperglycemia in elderly patients. However, diabetes treatment for these patients can be complex, which can increase the risk for medication errors by doctors. Many have been switched to these medications because other treatments had become ineffective, often due to the development of new medical conditions. Unfortunately, the Department of Veteran's Affairs reports that use of insulin or sulfonylurea drugs in adults over the age of 65 is one of the most common medication-related reasons for emergency room visits and hospitalizations.
Insulin and sulfonylurea drugs are not the only diabetes treatments under scrutiny. Pioglitazone, sold under the commercial name Actos, is another diabetes drug used to manage type 2 diabetes. This drug has also been linked to serious side effects, including an increased risk of bladder cancer. The risk is higher for patients who use the drug for one year or longer.
In 2011, the FDA issued a warning about the risk of bladder cancer for patients taking Actos for one year or longer. Currently, hundreds of injured Actos users have filed lawsuits that are pending in courtrooms nationwide, with allegations that Actos manufacturer Takeda failed to provide proper warning of the risks associated with their drug.