California Medical Malpractice Reform Initiative Gains Powerful Ally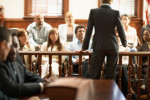 For quite some time now, consumer advocates have argued that the current California medical malpractice law is unfair to families because it severely limits the amount of non-economic damages that may be awarded by a jury. The outdated medical malpractice cap has hampered verdicts and settlements since 1975, and many have said that it simply isn't sufficient considering cost of living increases.
Now, backers of Proposition 46, a proposed reform to the medical malpractice law, have gained a powerful ally in Senator Barbara Boxer (D-CA). Early in September, Sen. Boxer appeared at a news conference with several families to announce her support for Prop 46 and to give reporters a sneak peak at her new TV spot designed to increase public awareness about these important issues.
Proposition 46 expected to save lives
At the recent news conference, Sen. Boxer discussed the potential benefits of the reform to California's medical malpractice law. The current cap on non-economic damages stands at $250,000. When filing a medical malpractice lawsuit, families can demand economic and non-economic damages. Economic damages refer to measurable expenses such as medical bills and lost wages. Non-economic damages refer to compensation for pain and suffering, and other immeasurable losses. Many proponents of the reform point out that the medical malpractice cap leaves many families unable to obtain the medical help they need when they've suffered from injuries or conditions that will last a lifetime.
Proposition 46 would significantly increase the cap from $250,000 to $1.1 million. However, the measure doesn't stop there. Sen. Boxer pointed out that it may also improve patient safety and prevent future medical malpractice cases by requiring hospitals to conduct random drug testing of physicians. Drug abuse among the medical profession is known to be rampant and may be a factor in medical malpractice. The measure would also require doctors to check a database with patients' prescriptions before giving patients certain drugs. This is intended to inhibit drug abuse.
In her new TV ad, Sen. Boxer states that Prop 46 "…holds the medical industry accountable for mistakes…Let's save lives, vote yes on 46." She also notes that the third leading cause of death in the U.S. is preventable medical mistakes – right behind heart disease and cancer.
Opponents to the proposed medical malpractice reform have already released their own TV ad that decries Prop 46. Fundraising efforts by these opponents are primarily backed by medical associations, doctors, and malpractice insurers.
Parents back Sen. Boxer's initiative
Many families have given their support to Prop 46, some of whom were at the news conference with Sen. Boxer. Linda Wilkinson voiced her support for the change to California's medical malpractice law. She is the mother of Brittany, who had suffered from an unspecified disease that confined her to a wheelchair. After a doctor did not notice the disconnection of a cranial monitor, Brittany lost her life.
Several other parents shared their heart-wrenching stories at the news conference, including a mother who lost her son during a routine appendectomy and a mother who lost her daughter because doctors did not realize her IV nutrition line had been disconnected for over two days. At least one of the parents blamed the opponents of Prop 46 for downplaying the loss of their children.