Woman Files Cancer Misdiagnosis Lawsuit After Doctors Miss Knee Tumor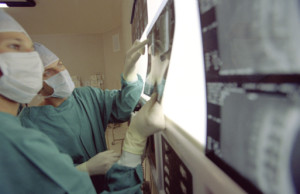 In a recent cancer misdiagnosis lawsuit, a Coldwater, Ohio woman is accusing two doctors and their employers of medical negligence and malpractice in failing to identify and treat in a reasonably timely manner a tumor in her knee that within months had spread to her lungs.
In her complaint, plaintiff Sara Wellman has named the defendants as Dr. Joseph Misson, of Lima, Ohio, and the Orthopedic Institute of Ohio; and, Dr. Paul Favorito of Cincinnati, and Wellington Orthopedic & Sports Medicine of Cincinnati.
Cancer misdiagnosis lawsuit alleges medical horror story
As Wellman tells it, in December 2009 pain and less range of motion in her left knee prompted a visit to the Sports Clinic at the Orthopedic Institute of Ohio. There Dr. Misson allegedly ordered X-rays of Wellman's left knee, which in turn showed an abnormality in the bone that could be cancer.
Next, Wellman contends, Misson ordered an MRI that turned out to be for the wrong knee (the right knee which showed no abnormalities). Misson in turn based his ensuing treatment program on the MRI of the right knee, with the result that, according to Wellman, her cancer in the left knee went untreated.
Then, as a student at the University of Cincinatti, Wellman sought help from another doctor for the same recurring problems of pain and poor mobility in her left knee. This time she visited Dr. Favorito at Wellington Orthopedic. Favorito, Wellman's complaint says, relied on the right knee MRI results from Misson's office, so that once again Wellman's cancer went undiagnosed and unattended.
Delayed cancer diagnosis may be life threatening
A third visit to a third doctor was a bad news charm. On this occasion, Wellman alleges, a doctor took seriously the abnormality in Wellman's left knee and referred her to an orthopedic tumor specialist, who in turn referred Wellman to an oncologist who diagnosed Wellman's problem as "osteosarcoma." By this time, however, more than seven months had reportedly elapsed between Wellman's initial first visit to a doctor and the diagnosis of osteosarcoma—plenty of time for the tumor to grow dramatically and the cancer to spread aggressively to other parts of the body, including Wellman's lungs, leaving Wellman with Stage III cancer and a 30% chance of survival.
Wellman is seeking more than $25,000 in damages for what she claims are permanent injuries related to months of invasive procedures and pain followed under the defendants' misdiagnosed treatment plan. Wellman's medical malpractice claim is also seeking compensation for existing and future medical bills related to her cancer.
Doctors' misdiagnoses rampant and dangerous problem
If Wellman's claim of misdiagnosis is correct, Wellman is not alone. The American Journal of Medicine reports that 15 percent of all medical cases in developed countries receive misdiagnoses, so that annually, literally millions of patients worldwide are treated for the wrong conditions. The Journal's estimates may be conservative: the Mayo Clinic puts the number of misdiagnoses even higher, at 26 percent of medical cases.
Cancer patients may be even more likely to receive wrong diagnoses. The Journal of Clinical Oncology found an alarming 44 percent of some types of cancer go undiagnosed.