Trial Underway in Appendectomy Malpractice Lawsuit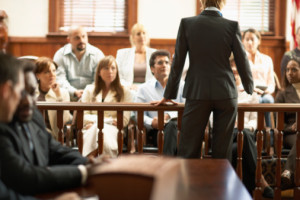 Testimony has begun in an appendectomy malpractice lawsuit filed against Dr. Andrew Hearn. The North Carolina-based doctor of Hearn Vascular Surgery and Carolina Vascular and Vein Specialists is being sued for failing to remove the plaintiff's entire appendix in a 2009 surgery, after discovering his patient was three weeks pregnant.
Plaintiff Asma Hajeh was only 35 years old when she presented to Dr. Hearn with an acute case of appendicitis. Several months after her emergency appendectomy with Dr. Hearn, Asma developed appendicitis again when she was 23 weeks into her pregnancy.  that emergency operation, doctors found that Hearn had left behind at least one-third of the organ. The recurrent appendicitis and subsequent surgery caused the plaintiff to go into premature labor four months early, putting her newborn daughter at grave risk for health problems and complications.
Jurors in the Alamance Courthouse will be deciding whether Dr. Hearn breached his duty in offering a standard of care by not removing his patient's entire appendix during the laparoscopic procedure.
Med mal suit filed over botched appendectomy
Legal counsel for the defendant argued that Asma suffered from an unusual condition where her appendix was partially obscured behind her colon.  This was further compounded by the fact that the woman's appendix was masked by massive inflammation. Hearn's attorney told the jury that his client was faced with an immensely difficult decision in 2009, and ultimately made what he felt was the most prudent choice to save Asma's life and that of her unborn child.
The surgeon removed 3 inches of Asma's appendix – which is the average size of an adult appendix. The doctor was also concerned about how anesthesia would affect the fetus during the short 18-minute appendectomy.
"There will always be a portion of the appendix left after this surgery … unless you remove a portion of the colon," noted Hearn's lawyer. "Between 3/4 of an inch and 1½ inches of her appendix were left behind. It was not his intention to leave that behind, but he was not negligent due to the circumstances in this case."
Jurors also heard testimony of Dr. Mike Liang, of UT Health Science Center of Houston. Liang testified that even in cases where the appendix is partially hidden by inflammation or the colon, surgeons are trained to remove the organ almost entirely, never leaving more than 5 mm behind. The claimant's first witness has also authored and published several articles on appendectomies and "stump appendicitis," where a small portion is left behind as was the case with Asma.
Appendectomy a mortal threat to baby
Asma's attorneys told the nine member panel that Hearn should be held liable for negligence on three separate counts, since the doctor allegedly failed to follow the accepted medical standard of care, didn't use his best judgment, and didn't take reasonable care or due diligence at the time of the appendectomy. 
"Not taking the time to remove one-third of her appendix was a danger to her and a foreseeable mortal threat to her baby," said Asma's lawyer during opening statements. The case of Hajeh v. Hearn will be temporarily postponed during the holidays and is expected to run through mid-January.