Study Finds Resident-Administered Nursing Home Mistreatment Widespread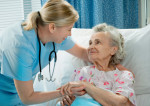 Nursing home mistreatment is a serious and under-appreciated problem in the United States but the spotlight is usually on treatment by nursing home employees and other caregivers. A new study shifts the focus, however, and highlights the problem of mistreatment of nursing home residents by their fellow residents.
Researchers presented the study, funded by the National Institute on Aging, at the 2014 Gerontological Society of America Annual Scientific Meeting in Washington on November 6, 2014.
Nursing home mistreatment
The study authors, Dr. Karl Pillemer, professor of gerontology in medicine at Weill Cornell Medical College, and Dr. Mark Lachs, professor of medicine and co-chief of the Division of Geriatrics and Gerontology at Weill Cornell, as well as the medical director of the New York City Elder Abuse Center, studied 10 randomly-selected nursing homes in New York State. They relied on multiple sources of data, including staff interviews, reports, direct observations, and questionnaires targeted to both staff and residents.
According to their findings, nearly 20% of nursing home residents had at least one negative encounter with another resident in the four weeks before the survey.
These negative encounters included:
Physical abuse, including biting and hitting (5.7%)
Verbal abuse, including cursing and yelling (16%)
Inappropriate sexual behavior, including exposing one's genitals or touching others (1.3%)
Invasion of privacy
The study also looked at factors influencing nursing home mistreatment. The doctors found that residents were more likely to be involved in mistreatment, either as a victim or a perpetrator, if they were:
Younger
Somewhat, but not seriously, cognitively impaired
Physically able to move about the facility
More prone to disruptive behavior than fellow residents
In many cases, a resident's mood disorder or dementia contributed to the mistreatment; the associated physically and verbally aggressive behavior triggered arguments and physical altercations.
Prevention and reporting
Dr. Pillemer and Dr. Lachs concluded that nursing facilities should focus intervention efforts on the residents likely to become involved in mistreatment. Some of their recommended intervention methods include programs to train staff to recognize and report nursing home abuse and guidelines to follow when incidents take place, as well as tailoring approaches to the needs of individual residents.
Elder abuse remains underreported
One thing that resident-administered nursing home abuse has in common with caregiver-administered abuse is that the researchers found it is underreported. The danger in caregiver-based nursing home abuse was targeted by Congress recently when it directed The Department of Health and Human Services Office of Inspector General to study the harm resulting from medical care in skilled nursing homes over a 5-year period. The study tracked what it termed "adverse events" suffered by Medicare recipients in the skilled facilities.
After reviewing the medical records of over 600 patients released from hospitals to nursing homes, the study found that a third of the patients experienced some harm from their medical care, and that nearly 6 out of 10 of those patients had suffered from "adverse events" that were preventable. More than half of the patients needed to be readmitted to the hospital as a result.
The OIG study shows that medical harm from nursing home abuse as it is traditionally understood can be serious and long-lasting. But the Cornell study has taken a novel look at the harm that residents may cause other residents in the same skilled nursing facility settings.