Ohio Jury Awards $1.2M in Medical Misdiagnosis Lawsuit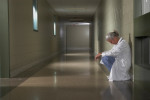 Earlier this month, a jury in Hamilton County awarded an Ohio woman over $1.2 million in her medical misdiagnosis lawsuit. The jury found that the doctor who treated the plaintiff, Dr. Michael Draznik, acted negligently in waiting too long to do appropriate tests.
The jury award includes roughly $700,000 to the plaintiff, Victoria Stamper, for her injuries, and another $425,000 to her husband for loss of consortium.
Jury finds delay in medical treatment led to injury
According to Ms. Stamper's lawyer, she underwent two separate partial hysterectomies but continued to suffer from pain. Though her symptoms indicated she was suffering from a perforated bowel, she did not receive a CT scan until much too late – the scan came after she had developed acute respiratory distress syndrome.
Acute respiratory distress occurs when the alveoli – the tiny air sacs in the lungs – fill up with fluid and prevent oxygen from reaching the blood stream. When it occurs, acute respiratory distress usually follows a major illness or injury. Tests show that Ms. Stamper's lungs are now only working at half their original capacity. As a result, her breathing is now so labored that she needs a walker to walk.
The strong undercurrent of medical misdiagnosis
Medical diagnosis is often overlooked as a source of medical error but some experts believe that overlooked, wrong, or delayed diagnoses affect between 10 and 20 percent of cases. This puts medical misdiagnosis in the lead ahead of more widely recognized types of mistakes like medication or surgical errors. The impact of these types of errors is stunning, with one meta-analysis published by the British Medical Journal estimating that fatal U.S. diagnostic errors kill as many patients each year as breast cancer does.
So why are misdiagnosis mistakes so common? Experts who study this type of medical error blame a lack of clear data, a hesitance to do anything about it, and the fact that there are no clear solutions. Another problem complicating matters is that many doctors never know that they gave an incorrect diagnosis – sometimes their patients just find new doctors. If a doctor ends up in a lawsuit, he may find out about his mistake, but very few medical misdiagnoses result in litigation.
The cost of medical misdiagnosis
Last year, Johns Hopkins University reported that there were nearly $39 billion in payouts in medical malpractice lawsuits in the United States between 1986 and 2010. Misdiagnosis led to 35% of the payouts. Some hospitals are now looking toward new technology to prevent bad diagnoses. One technique is to use data mining – having computer sort through mountains of medical records to offer animated spot checks like issuing a red-flag on test results that need follow up.
As the danger and cost of medical misdiagnosis gains attention, groups are attempting to tackle the problem. A federal advisory board, the Institute of Medicine, plans to launch a $1 million study to determine the scope of impact that diagnostic errors have on American health care.
Another group, the Society to Improve Diagnosis in Medicine, has been working alongside healthcare and safety groups to find ways to identify and measure diagnostic errors. They are also developing a medical school course to help med students learn how to think critically.
Over and over again, reports point to many doctors' rigid adoption of a diagnosis as a contributing factor to misdiagnosis errors.