Nursing Homes without Sprinklers Miss Deadline, Risk Lives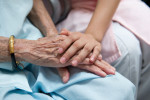 Hundreds of nursing care facilities in the U.S. failed to meet the deadline for installing adequate sprinkler systems last year, according to a report from the federal agency in charge of nursing home safety.
The Centers for Medicare and Medicaid Services (CMS) established the August 2013 deadline for installing sprinkler systems in nursing homes in 2008, giving the facilities a five year window to comply with the regulations. Even with the five year opportunity to make sure that their sprinklers met regulations, 385 of nursing care facilities in 39 states did not pass inspection, leaving a total of 52,000 residents vulnerable should a blaze break out. The non-compliant facilities included 44 that lacked any sprinkler system whatsoever.
Though some facilities claim to have resolved their sprinkler problems after the official list came out, some continue to lack the required safety features. For such facilities, the CMS might deny payment or cancel their provider agreement. Though they had warned last year that extensions would not be granted, a small number of facilities could, in fact receive extensions under specific construction-related circumstances.
An estimated 97 percent of nursing homes met the requirements. A nursing home with a fully-functioning sprinkler system has never experienced multiple-deaths as a result of a fire, according to a 2004 Government Accountability Office report.
Nursing home negligence resulted in deadly fires
The new stipulations regarding the sprinklers came on the heals of deadly nursing home fires in facilities that lacked sufficient sprinkler systems.
After multiple nursing home fires had already occurred across the country, the CMS established a requirement that newly constructed nursing homes be equipped with sprinkler systems in 2003. However, they had not required that older nursing homes acquire such sprinkler systems as well. That same year, two nursing home fires resulting in multiple deaths in older facilities occurred. 16 people were killed in the Greenwood Health Center in Hartford, CT and 15 lost their lives in the NHC Healthcare Center in Nashville, TN. Neither had automatic sprinkler systems.
The fires in Connecticut and Tennessee caused the CMS to rethink their position on older facilities and the 2008 order was the result. States with facilities that had experienced multiple deaths due to fire had already toughened fire safety laws on their own after being accused of nursing home negligence. For instance, Tennessee's response in the immediate wake of the Nashville fire meant that none of the facilities anywhere in the state were on the list.
Nursing home advocate expresses shock at fire safety lapse
Residents are so often concerned about day to day care that they don't think about where fire safety measures in their relatives' care facilities are adequate.
Brian Lee, executive director of Families for Better Care, expressed shock at the rate of non-compliance.
"That is intolerable in this day and age," said Lee, adding, "It's not like they don't have money to put these systems in. They have the money. They just choose not to do so."
Costs for installing or upgrading sprinkler systems vary from state to state. An estimate presented in Connecticut after the 2003 fire put the cost of an upgrade to existing system at approximately $270,000 and the average cost of installing a completely new system at $363,000. Installing a system in an older buildings especially can involve additional complexities.