New York Elderly Get More Protections Under Proposed Laws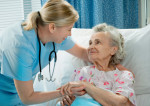 A spate of proposed legislation in Albany, New York will give seniors in that state more protections against elderly abuse. The sponsors of the bill, Senators David Valesky (D-Oneida) and Michael Nozzolio (R-Fayette), say the proposed laws would give banks authority to refuse dubious transactions and entrust prosecutors with better, freer access to medical records in suspected cases of abuse of seniors.
Incidence of elder abuse
Elder abuse is not uncommon: conservative estimates suggest 3 out of every 1,000 New York seniors suffers some kind of abuse (whether physical, emotional, or financial); some reports put that figure much higher, with one study by Cornell finding that as many as 76 out of 1,000 seniors have experienced abuse of some kind. This latter figure is probably substantially higher, because the Cornell study considered self-reported cases of abuse and incident reports from agencies.
Moreover, the fact that 90 percent of elder abuse can be traced back to a family member means that the problem is a close and ever-present danger for a significant portion of the aging population who suffer abuse.
These latest proposals would ensure that prosecutors have more legal resources in their discretion to prosecute suspected cases, so that, for example, the elderly would be more freely allowed to testify in criminal cases, and so that the definition of a "caregiver" is broadened to include more people subject to current laws regarding the welfare of the elderly.
The legislation would also require a centralized collection system for reports of elder abuse: instead of themselves having to navigate a vast bureaucratic maze of health, social services, and law enforcement agencies, reporting seniors and/or their advocates would be able to turn to one state entity specifically slated for investigating suspected incidents of abuse.
Specific bills proposed in response to elder abuse
The bills slated for consideration are the following:
S.6221 (Sen. David Valesky, D-Oneida) allows banks to deny any financial transaction that, per the suspicion of the bank or a social services or law enforcement official or agency, may involve the exploitation of a vulnerable adult.
S.2323 A (Sen. Jeff Klein, D-Bronx) requires that the Office of Children and Family Services define, identify and collect information about elder abuse possessed by state and local agencies; and creates an inter-agency reporting system, through the Office of Children and Family Services, containing uniform standards for collecting and interpreting data on elder abuse.
S.7179 (Valesky) would allow a prosecutor to obtain medical records, without a privilege waiver, with a subpoena, endorsed by the court, based upon indications that the patient suffers from a mental disability and has been a victim of a crime.
S.7177 (Sen. Patrick Gallivan, R-Elma) denies the defense of obtained consent to an alleged abuser, where such consent was garnered from a person who the accused knew or had reason to know was mentally disabled.
S.7187 (Sen. Michael Nozzolio, R-Fayette) amends the penal law to explicitly state that in a prosecution for larceny by false promise, (in other words, the taking of another's property or goods for his or herself by cajoling), a reasonable jury may come to a guilty verdict based on partial but convincing evidence that larceny was committed.
S.2951 (Valesky) broadens the definition of "caregiver" to describe a person who voluntarily, or otherwise by operation of law, (such as an appointed guardian or power of attorney) takes responsibility for an elderly person, so that they could be tried under the "endangering the welfare of a vulnerable elderly person" law.
S.7188 (Nozzolio) would grant a caregiver, with the consent of the prosecutor, the right to accompany a vulnerable elderly person who is testifying in front of a grand jury.
S.7178 (Gallivan) allows for the preservation of testimony of witnesses aged 75 or older.