New Surgical Negligence Trial Set After Hung Jury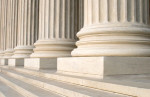 Carol Nettle was the alleged victim of surgical negligence that occurred during an attempt to repair her left clavicle that had been severed in the 1990s. The purported surgical errors occurred when the doctor used sutures to hold a metal plate in place that was intended to stabilize the damaged clavicle. The surgical plate could not be screwed in because of the prior bone damage and as a result of the problems, the distal portion of Nettles' collar bone was reportedly cut off.
Nettle experienced significant pain and was forced to undergo revision surgery to remove the metal plate and surgical sutures. Unfortunately, she claims that mistakes made in the initial procedure have left her with a sagging shoulder, reduced functionality and permanent pain. She filed a malpractice claim for $1 million, which has now had a new trial date set after the first suit she brought resulted in a hung jury.
Jury unable to agree on whether surgical negligence occurred
The plaintiff's complaint alleged that her surgery never should have occurred because of the conditions of her bone. The complaint further alleged that the physician exercised unreasonable negligence during the procedure in a way that caused her harm.
It is the plaintiff's burden to prove the elements of a malpractice claim to obtain compensation, and Nettle had the obligation to meet this burden in her malpractice case. A plaintiff in this type of case must prove malpractice occurred by a preponderance of the evidence, or more likely than not.
A jury of three men and three women heard Nettle's evidence and considered the information but were not able to agree upon whether the doctor was negligent during the surgical procedure. A unanimous vote that the physician made an unreasonable mistake was required and since the jury could not agree, the case will need to be retried.
Hung jury leads to new trial
A date for the new trial has been set for December 8, 2014. The new hearing will be a four day jury trial and the plaintiff, once again, will have the burden of proving that the doctor who performed her surgical procedure failed to provide proper care.
While physicians are not required to be perfect, every doctor who provides treatment to a patient has a duty to provide professional quality care commensurate with what a hypothetical physician with the same background would have provided. If Nettle's surgeon made decisions or surgery errors that no reasonable physician in his position should have made, then Nettles can recover compensation for resulting harm.
Like many malpractice lawsuits, the outcome of the plaintiff's second trial may come down to the credibility of her experts. Most juries are not clear on what the standard of care is for physicians performing surgery because surgeries are extremely technical and complex. As such, an expert witness must explain in laymen's terms what the obligations were that the physician had to the patient, and how those obligations were breached in a way that caused harm.
The plaintiff was not successfully able to prove surgical negligence in her first case. With stronger evidence, solid witnesses and knowledge of court rules and procedures, it is possible that she will prevail in her second trial in December 2014.