Misdiagnosis the Most Common Source of Primary Care Malpractice, Says Study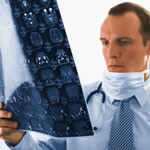 Most of the primary care malpractice claims filed in Massachusetts are related to alleged misdiagnoses, according to a new study led by Gordon D. Schiff, M.D. Co-authored by colleagues from the Harvard Medical School and Brigham and Women's Hospital, the report aimed to look at the types, causes and outcomes of primary care malpractice cases. It forms part of a concerted drive to improve health and safety in the state's medical sector.
Malpractice research highlights misdiagnosis claims
The research retrospectively reviewed closed claims data from two insurance companies concerned with malpractice settlements. It covered the majority of Massachusetts doctors over a five year period, between January 2005 and December 2009. Every malpractice claim insured by the two largest insurers was screened, and 551 claims from primary care practices were identified for analysis (out of a total of 7,224 malpractice claims). The focus for improving patient safety and malpractice risk is increasingly placed on outpatient care, according to the report.
Just over 72% of allegations were related to misdiagnosis. Most of these related to a failure to diagnose or a delay in diagnosing cancer. Medications accounted for 68 cases (12.3%), other medical treatment accounted for 41 cases (7.4%) and communication – or a lack thereof – accounted for 15 of the cases (2.7%). The remainder of the allegations related to patients' right or patient safety and security.
Dr. Schiff's team also found that primary care malpractice cases were more likely to be settled or result in a jury verdict for the plaintiff than other types of medical malpractice claims.
In conclusion, the report states: "Compared with malpractice allegations in other settings, primary care ambulatory claims appear to be more difficult to defend, with more cases settled or resulting in a verdict for the plaintiff."
Primary care malpractice in Massachusetts
Medical malpractice experienced a sea-change during the 1980s, as the insurance industry developed new types of policies to stabilize losses and premiums. New legislation required doctors to have medical malpractice coverage and insurance companies to make malpractice coverage available on an equal basis to all doctors. Total Massachusetts medical malpractice premiums increased from $198 million in 2001 to $301 million in 2007.
Preventing malpractice through awareness is now a key objective for medical professionals, both in Massachusetts and across the country. Patients now have better access than ever before to specialized attorneys in the event of malpractice claim. Medical malpractice payouts are also regulated by state statutes of limitation, which in Massachusetts is seven years after the alleged act or omission occurred.