Medical Misdiagnosis Lawsuit Results in $4 Million Award for New York Man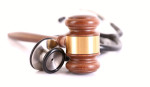 A jury has awarded an upstate New York man $4 million in a medical misdiagnosis lawsuit stemming from an erroneous myasthenia gravis diagnosis made in 2004, according the the New York Daily News.
42-year-old plaintiff Robert Wyble alleged that he suffered several years of painful, debilitating treatment meant to address a condition he did not actually have.
Myasthenia gravis misdiagnosed
According to Wyble, his troublesome medical journey began in 2004, following a series of unusual, unexplained falls. Upon seeking medical treatment at Mount Sinai Medical Center, he was told by Dr. Dale Lange that he was suffering from a chronic autoimmune neuromuscular disease known as myasthenia gravis. The condition is characterized by a progressive weakening of the body's skeletal muscles that worsens during times of physical activity and tends to improve with rest. Wyble claimed that Dr. Lange informed him that not only would this condition fail to recede on its own, it would likely cause him to become disabled and perhaps even hasten his mortality.
In an attempt to prevent such dire outcomes, Wyble agreed to undergo surgery for the removal of his thymus and to subject himself to biweekly blood treatments. In addition, he was prescribed medication that caused excessive weight gain and hypertension. In total, Wyble received 74 distinct treatment sessions, but experienced no improvement in his falls.
In 2009, Dr. Lange left Mount Sinai to accept a position at another healthcare institution, and Wyble's new doctor determined that he was actually suffering from cataplexy, a medical condition that is easily controlled with medication alone. He did not, in fact, have myasthenia gravis, and the treatments that had taken such a toll on Wyble's health over the previous four years had all been for nothing.
Disturbing frequency of misdiagnosis
Recent reporting from the National Center for Policy Analysis indicates that medical misdiagnosis occurs with alarming frequency. An erroneous diagnosis can be very serious and sometimes even fatal for patients, with upwards of 30% of such mistakes characterized by a serious risk of lasting disability or death.
Establishing liability in a medical misdiagnosis lawsuit
It is important to note that neither a doctor's mistake nor a patient's dissatisfaction with a treatment outcome will automatically constitute medical malpractice. For a plaintiff to successfully establish the required elements of a malpractice action, he or she must show that the actions or omissions of the physician in question caused the harm at issue and fell below the applicable standard of practice and also that a reasonably skilled doctor working under the same conditions would have acted differently.
In Wyble's case, not only was the jury convinced that Dr. Lange's diagnosis of myasthenia gravis was incorrect and that the treatments he prescribed actually harmed his patient, it found that a similarly trained and experienced physician under similar circumstances would not have come to the same conclusions or taken the same course of action. Lange's attorney, however, maintains that the doctor's professional judgments and decisions regarding treatment were well within established protocols, and he pledges to appeal the outcome of the case.