Massachusetts Medical Malpractice Suits Often Delayed for Years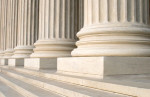 How to fairly and efficiently process and adjudicate medical malpractice suits is an issue all courts struggle with in the U.S.  One of those court systems is in Barnstable County, Massachusetts, home of historic Cape Cod.  This peninsula is also the home of 28 medical malpractice cases.  That's about 2.5 percent of all the 1,100 open cases in Barnstable Superior Court, according to the Cape Cod Times.
Under Massachusetts malpractice law, in malpractice lawsuits, tribunals review cases where a professional is sued for negligence or malpractice.  These tribunals, made up of a judge, lawyer and a doctor, have meant long waits for hearings that may only take minutes, according to the Times.  Under Commonwealth malpractice law, after filing suit the plaintiff must provide an "offer of proof," in which an independent medical professional reviews the patient's files and decides if the defendants' care was not up to standards.
Next the medical tribunal decides, by a majority vote, whether the defendants' care could be considered negligent, which would allow the lawsuit to go forward. "It's a good idea. When something goes wrong, everybody wants to blame somebody," court Clerk Magistrate Scott W. Nickerson told the Times. "But it's a stopgap."
Mixed results for medical tribunals
Dr. Alan Woodward, past president of the Massachusetts Medical Society and chairman of its committee on professional liability, told the Times, "They absolutely help. But they only help a little bit." Woodward estimates the tribunals decide against plaintiffs only about 15 percent of the time. Plaintiffs can bypass the process entirely by posting a $6,000 bond, which is given to the defendants if a jury decides in their favor.
Some of the rules related to the tribunals make them difficult to organize.  A doctor sitting on the tribunal must come from another county and that doctor will only be paid $50 per case.  This makes doctors hesitant to join the tribunals, creating delays.  "We can't get doctors to sit on them," Nickerson said. "Some we're having to make wait over a year." Woodward says the average length of time between a lawsuit being filed and a plaintiff receiving money in Massachusetts is 5½ years.
Alternate approach to resolve medical malpractice suits
Woodward wants to take the process another step — by devising a system that could eliminate medical malpractice claims as much as possible — by putting the process in the hands of health care professionals. Woodward and others have created the Massachusetts Alliance for Communication and Resolution following Medical Injury, according to the Times, which encourages health care organizations to work with patients before litigation becomes necessary.
Called CARe, for Communication, Apology, Resolution, the process includes a way to reassure patients and compensate them financially.  It would also include an explanation about what happened and what will be changed so the issue won't happen again. "Even if it's not an avoidable injury there's almost always something that can be improved upon," Woodward said.
He claims smaller organizations that already have been using the program have seen "a statistically significant and dramatic reduction" in medical malpractice suits. More importantly, Woodward said, patients and their families are more satisfied with outcomes. "It's doing what is morally and ethically right, and it's doing what I'd want if I was a patient," he told the Times.