Kentucky Doctor Denied Retrial After $6 Million Medical Malpractice Verdict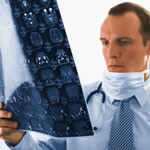 A Kentucky-based emergency services company has been denied a retrial after a recent medical malpractice verdict resulted in a $6 million judgement for a couple from Carter County whose baby boy died in hospital. Judge C. David Hagerman denied the motion filed by attorneys representing Dr. John P. Short and his employers, Ashland Emergency Medical Associates, providers of emergency services for the King's Daughters Medical Center (KDMC).
The lawsuit was filed by a couple from Grayson. It alleged doctor negligence caused the death of their two-month-old son in the KDMC emergency room. According to court documents, the couple took their son to the KDMC emergency department in January 2010 after the infant displayed symptoms of bronchiolitis, a respiratory illness commonly found in newborns. To help the child breathe, Dr. Short performed a tracheal intubation, which involves inserting a tube down the windpipe to maintain an open airway.
The initial medical malpractice verdict concluded that Dr. Short had performed this procedure incorrectly, compromising the infant's breathing and ultimately causing him to suffocate. Dr. Short purportedly left the emergency room immediately after performing the procedure.
In April 2013, following a week-long trial, a jury determined that the baby died of suffocation as a result of doctor negligence. Jurors ordered the physician to pay the couple $3 million. In addition, Ashland Emergency Medical Associates was ordered to pay $3.2 million to the couple for failing in their duty to properly supervise Dr. Short.
Defendants requested judge's intervention
As well as seeking a new trial, both Dr. Short and his employers sought to substitute the jury's verdict for the Judge Hagerman's own judgement, an oft-requested but rarely granted intervention designed to avoid extreme and unreasonable jury decisions.
Hagerman rejected the defendants' motion and ordered the bereaved couple to collect the entire sum awarded after the original medical malpractice verdict, plus costs and interest at a rate of 12% per year until the judgment is paid in full. The defendants still have the option to appeal the ruling in the Kentucky Court of Appeals.
Kentucky healthcare criticized by AMA
In a 2004 report from Citizen.org, the American Medical Association (AMA) declared Kentucky to be a 'crisis' state in terms of its malpractice liability system. This sentiment was echoed at the time by the Kentucky Medical Association (KMA), which has issued warnings about a 'state of continuous crisis' threatening to limit patient access to care.
Unlike some states, Kentucky does not limit the amount of damages that can be awarded in malpractice cases, although the AMA and the KMA advocated capping the award for 'pain and suffering' at $250,000. Proponents of such legislation argue that insurance premiums for doctors are becoming too high, while opponents say that the state's health care providers should make efforts to reduce incidents of doctor negligence.
Understanding eligibility for a medical malpractice lawsuit
Individuals who believe they may have been the victim of medical negligence must first ascertain whether or not the physician fulfilled their duty to a reasonable standard of care, and if the injury caused would have occurred regardless of the action or inaction of medical staff. If healthcare professionals can be shown to be liable, there may be grounds for filing a medical malpractice lawsuit.