Indiana Family Challenges Medical Malpractice Cap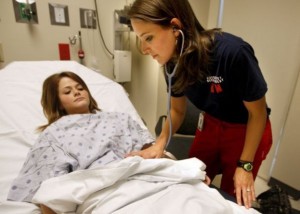 The family of a girl who sustained paralyzing birth injuries has been fighting for justice on her behalf for a decade. Although a jury awarded the family $15 million in damages in 2013, they have yet to see any of that money and have been providing for her intensive care needs out of pocket.
Indiana has a cap on the amount of damages that may be paid for a medical malpractice lawsuit. It's currently set at $1.25 million – a sum that may seem quite substantial for many families, yet is paltry compared to the money required to provide lifelong care for a person who is completely dependent on others.
When filing their medical malpractice lawsuit, the family had hired an expert to estimate the projected care needs of their daughter. The now-12-year-old girl is expected to need $8 to $10 million over her lifetime, given that she is a quadriplegic and is unable to speak.
Family questions constitutionality of the cap
The family, who resides in Evansville, is challenging the constitutionality of the medical malpractice act that sets the strict limit on damages. The Indiana Compensation Act for Patients was enacted in 1975 with the intention of reducing liability insurance premiums for physicians while still enabling patients to access quality healthcare.
Under the law, physicians can only be held liable for up to a quarter of $1 million in damages for any one particular patient per act of medical malpractice. Physicians cannot be held liable for more than $750,000 per year. Indiana also has a Patient Compensation Fund, which pay is damages over these amounts, but only up to $1 million.
The Evansville family claims that the malpractice cap is not constitutional and they are questioning whether the Indiana Patient Compensation Fund should pay the damages instead of the defendant hospital, St. Mary's Medical Center.
The lawsuit is proceeding before a Vanderburgh County judge, with the final legal briefs expected to be submitted soon. The malpractice limit is being defended by attorneys for Indiana. The defendant hospital has denied claims made by the family and has stated that the state should be liable for damages, rather than the hospital. "St. Mary's has been and is currently qualified to receive coverage under Indiana's Patient Compensation Fund of the Indiana Medical Act. This is an active case, so we will refrain from making any comments publicly," said a hospital spokesperson.
Child's premature birth blamed on malpractice
The Indiana family's daughter was born in 2003 and their lawsuit was filed in 2005. The plaintiffs claimed that the hospital had inadequate staffing when providers conducted a fetal blood sampling procedure. It also alleged that the providers were negligent in failing to perform continuous ultrasound monitoring during the procedure. As a result, the family claims their daughter was born prematurely at 33 weeks gestation.
The girl was diagnosed with cerebral palsy. She is unable to use her arms or legs and she cannot speak. She can only communicate through her body language, which severely decreases her quality of life. The girl must also be fed via a tube. Her disabilities are permanent, which places significant financial strain on the family.