Google Glass: New Frontier for Surgery?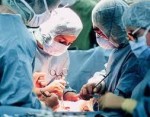 Mini wearable computers that respond to voice commands once seemed like futuristic technology, but thanks to the developers at Google X, such hands-free intelligent devices are now going mainstream and may soon transform the way surgical operations are performed.
Powered by Android operating systems, Google Glass is worn like a pair of eyeglasses, offering the user an interactive, smartphone–like screen with voice command support, in addition to Bluetooth and Wi-Fi connectivity.
According to a few select surgeons who have had the opportunity to use the device while operating, Google Glass surgery may be the wave of the future, facilitating smoother communication among physicians, while permitting the surgeon to keep his or her eyes on the patient at all times.
Google Glass surgery offers potential for educational training
Several orthopedic surgeons have tried out Google's latest technology in the operating room and remain enthusiastic about its potential. Dr. Brent Ponce wore Google Glass as he performed a shoulder replacement at the University of Alabama. His entire procedure was streamed live to Dr. Phani Dantuluri in Atlanta, who offered guidance with manual gestures that appeared as superimposed images on Ponce's Google Glass display.
On a separate occasion, the two surgeons tested Google Glass surgery with a videoconferencing platform known as VIPAAR, allowing the doctors to interact in real time.
As reported by Medical News Today, plastic surgeon Dr. Anil Shah believes that Google Glass can help surgeons more effectively document critical moments during surgery, such as capturing the exact size and location of a cancerous tumor. And since doctors could potentially pull up MRIs and x-rays on their screen, they never have to divert their attention from the operation at hand. Shah states that other benefits of the gadget may be better educational tools for those in training, who would be able to watch procedures from the perspective of the surgeon.
"We've always used video in our training. But now for the first time I can show students a procedure 'through the surgeon's eye.' They can see exactly what I'm seeing and I can easily narrate as I do the procedure," said Shah, who instructs surgical residents at the University of Chicago.
Surgeons see new gadget as revolutionary in the operating room
The hope is that Google Glass could be utilized to streamline the entire surgical process, allowing doctors to pull up recent patient pathology reports or records, while collaborating with colleagues in real time.
"It's a privilege to be a part of this project as we explore how this exciting new technology might be incorporated into the everyday care of our patients," said Ohio surgeon, Dr. Christopher Kaeding. "To be honest, once we got into the surgery, I often forgot the device was there."
Kaeding wore Google Glass while performing an ACL surgery, as colleagues and medical students watched live from their laptops. One second-year student commented, "To have the opportunity to be a medical student and share in this technology is really exciting."
Exciting and innovative as it seems, Google Glass surgery is still in its early trial phases. As the practice becomes more prevalent, the medical community will continue to monitor the utilization of the technology for any potential problems, to help ensure patient safety remains a top priority.