Doctor Found Not Liable in Wrongful Death Malpractice Lawsuit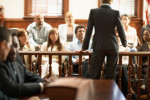 Earlier this month, a Texas jury in a wrongful death malpractice lawsuit found that a Waco doctor was not negligent in the death of one of his patients. The patient, 78-year-old Harold Hutchinson, was a retired dock worker for Central Freight Lines. He developed an unusually rare and incurable skin condition, Stevens-Johnson Syndrome. His condition was diagnosed in March 2011 and he died from sepsis the following August.
Hutchinson's sister filed the wrongful death malpractice lawsuit as executor of his estate. The complaint alleged that Dr. Michael Burbidge, Jr., of the Providence Health Alliance in Waco, negligently prescribed an antibiotic that led to the ultimately fatal condition. The lawsuit initially sought $4 million in compensation. By the time of the plaintiff's closing argument, she requested a little over half a million dollars.
Stevens-Johnson Syndrome at center of wrongful death suit
Stevens-Johnson Syndrome is a rare but serious disorder that affects the skin and mucous membranes. It is often caused by an infection or an allergic reaction to a medication. The syndrome is set off when the patient suffers a reaction that triggers a body wide hypersensitive response. The result is cell death, which in turn causes the layers of skin to separate.
Some of the drugs that can cause Stevens-Johnson Syndrome include over-the-counter pain relievers like acetaminophen and ibuprofen, antibiotics like penicillin, and antipsychotics. In Hutchinson's case, the rare and dangerous allergic reaction led to sepsis, a complication from infection that causes swelling throughout the body.
Hutchinson died on his 78th birthday, months after taking the antibiotic Bactrim. Lawyers for the plaintiff posited that the Bactrim caused Hutchinson to develop Stevens-Johnson Syndrome. Hutchinson had a host of medical problems including diabetes, prostate trouble, and high blood pressure, and Burbidge's lawyers argued that nothing the doctor did led to Hutchinson's death. Burbidge had prescribed Bactrim to Hutchinson twice before, both for short periods of time and both times for rashes.
Timing of medical treatment disputed
One of the main points of contention between the plaintiff and the defendant was when Hutchinson was prescribed the Bactrim – and therefore who actually prescribed it. In early 2011, Hutchinson had been admitted to Providence Health Center, where other doctors cared for him. Burbidge said he received reports of what other doctors ordered for Hutchinson but was not actively involved in his treatments.
Burbidge also said that he had not prescribed Bactrim to Hutchinson since at least six months before he was first admitted to the hospital. He had no way of knowing whether another doctor, such as one at an urgent care clinic, may have prescribed Bactrim or whether Hutchinson merely got the dates wrong when he later recounted taking the antibiotic.
Serious side effect is largely unknown
For as serious a condition as Stevens-Johnson Syndrome is, it is a largely unknown drug side effect. According to some experts, there is a small risk of developing the condition any time you take a drug. The problem is that drug warning labels are often too generic for patients to understand the severity of the reaction. As the relationship between Stevens-Johnson Syndrome and many common medications becomes better known, victims across the country have begun coming forward as plaintiffs in Stevens-Johnson Syndrome lawsuits against pharmaceutical companies.