Daytona Police: Nursing Home Abuse Investigation Obstructed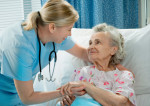 In their investigation of a possible rape of a patient at a Daytona Beach nursing home, the local police department claims that the facility has slowed their ability to conduct interviews in order to gather information and locate possible suspects.
Daytona Beach Health and Rehabilitation Center is currently being investigated for failure to prevent abuse and neglect after a 75-year-old woman, who is terminally ill and suffers from dementia, was found to have contracted an STD. According to the Daytona Beach police chief, the woman herself also claimed that someone was having sexual intercourse with her and that she was pregnant.
After the patient's mother filed a report with the police about suspected abuse, the department requested records, access to the patient's room, and interviews from employees on July 3. After two weeks of repeated requests, Police Chief Mike Chitwood stated that the facility would only provide a list of employees; however, the department was informed that police were not allowed to speak to these employees.
Chitwood noted that when the nursing home "rebuffed" police requests to interview employees, "Their failure to cooperate with us is putting other patients in that facility in danger." He is filing a complaint to the Office of the Inspector General for the facility's failure to comply with his department's requests.
Not the first nursing home abuse issue for facility
This is not the first time that the nursing home in question has been accused of patient abuse or neglect. The Agency for Health Care Administration has fined the center multiple times over such violations since 2005. In 2007, they received a $2,500 fine for failure to follow physicians' orders when a nurse gave medication intended for one patient to another. The AHCA fined them $16,000 this year for failing to provide "adequate and appropriate health care."   A $22,000 was also administered in June for failure to accurately document the care that three of its patients received.
Because of these multiple violations, the center's license has been downgraded to "conditional." This is the second license downgrade for the center in the past 7 years. The nursing home will now be on the AHCA's "Nursing Home Watch List" for the next two and a half years.
The center is not without a supporter: Andre Butler, a resident there for the past year and president of the resident counsel, said he believes that everyone is treated well and that the police chief is making "false accusations."
Nursing home administrators have not provided a comment on the investigation.
Nursing home abuse rampant, according to recent studies
Several recent studies have highlighted the extent of nursing home abuse and neglect. Abuse can be physical, psychological, or sexual; or it may involve neglect, financial exploitation or fraud. Because patients are often in a weakened or compromised state, they may be less able or willing to report abuse.
An unexplained STD is one sign of sexual abuse; others include bruises or bleeding near the breasts, genitals, or anus, as well as worn or stained undergarments. Family members of patients who notice such signs should report them to the police, as occurred in this case.