Connecticut Hospital to Pay $12 Million Medical Malpractice Award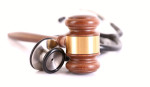 A 65-year-old Redding, Connecticut resident will receive $12 million in compensation from Danbury Hospital, after suffering a punctured colon during a routine hernia operation. Jurors in Danbury Superior Court rendered the medical malpractice award after less than four hours of deliberation.
The plaintiff, Vivian Gagliano, claimed the surgical mistake caused her health to spiral downward as doctors failed to notice her punctured colon until after her operation was finished and the wound sutured up. Shortly thereafter, she developed a major infection in her abdomen, sending her into septic shock. At that point, her organs began failing, she suffered a heart attack and fell into a coma, which lasted one month. Doctors Venkata Bodavula and Joseph Gordon, along with Danbury Hospital were named as defendants in the lawsuit.
$12 million medical malpractice award for CT woman
The 2008 surgery, which was a relatively straightforward hernia operation, left Gagliano with severe and permanent injuries. The abdominal infection necessitated other surgeries causing the plaintiff to lose most of her large intestine. Gagliano's attorney alleged that his client had no idea at the time of her hernia operation that a surgical resident would be participating in the surgery. Dr. Venkata Bodavula, who was a resident in training at the time, was allegedly the one her punctured Gagliano's intestines, though Bodavula denies this claim. On the contrary, Bodavula contends that Dr. Gordon was responsible for the surgical error, and it was he who likely punctured the patient's colon.
"We hope that Danbury Hospital gets the message that being a teaching facility carries with it the responsibility of insuring that patient safety comes first," Gagliano's lawyer said, adding, "We expect that Danbury Hospital will take responsibility for its own residents. That's the expectation of the public. That's the expectation of the Gaglianos."
A spokesperson for Danbury Hospital released a statement indicating that officials disagree with the verdict and they are contemplating filing an appeal.  The hospital statement said: "This verdict is an unfortunate example of the litigious environment in health care that hinders progressive reform and affects our ability to reduce health care costs for those we serve."
According to court documents, Dr. Joseph Gordon settled medical malpractice claims against him before trial, though the amount of the settlement is unknown.  Six years later, Gagliano still suffers from health problems that hamper her movements and has difficulty digesting food.
Gastrointestinal perforation an emergency situation
A punctured or perforated colon is a medical emergency, as the condition can lead to peritonitis and septic shock. Immediate symptoms typically include fever, nausea, chills and severe abdominal pain. Sepsis, a life-threatening bacterial infection, can progress to septic shock which carries a very high death rate. As was the case with Gagliano, patients may then experience cardiac arrest, respiratory failure and total organ failure.
In a recent Johns Hopkins medical malpractice study, researchers found that so-called "never" surgical events (such as operating on the wrong body part or leaving behind a surgical instrument inside the patient) occur roughly 4,000 times every year.  Combined with better procedures to prevent never events, improved reporting systems are needed to enhance safety efforts, said lead study author, Dr. Marty Makary, M.D., an associate surgery professor at the Johns Hopkins University School of Medicine.