CMS Responds to Criticism, Changes Nursing Home Rating System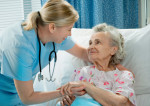 A few months ago, consumers expressed their outrage when an investigative reporting piece uncovered the many problems concerning the current nursing home rating system, which is compiled by the Centers for Medicare and Medicaid Services (CMS). The rating system has long been considered to be the gold standard for evaluating the quality of nursing homes and families across the country have relied upon it when choosing the appropriate facility for their elderly loved ones.
Previously, much of the data used for a nursing home's rating was reported by the nursing homes themselves, was not subject to independent review, and did not reflect consumer complaints or government enforcement actions. A new government initiative will soon revamp the nursing home rating system, ideally making it more accurate and reliable for families across the country.
Improvements to be effective in January
The updates to the nursing home rating system are expected to become effective in January. The trend is toward an increase in transparency and accountability for the 15,000-plus nursing homes around the U.S. These facilities will be required to report information regarding their staffing levels to an electronic database. That information will be cross-referenced against payroll data to ensure accuracy. Information regarding staffing levels is critical because consistent staffing is generally an indicator of quality care.
One category of data – the quality measures rating – will still be self-reported by nursing homes. However, an auditing program will be in place to assess whether the information about each patient is correct. Additionally, another category of data will go into the rating for each nursing home. This category involves the percentage of patients at each facility that are receiving antipsychotic drugs.
Consumer advocates have praised this initiative, noting that they could very well improve the quality of care given to a vulnerable population.
"We've seen the improvements in quality across the board. Yet this push for greater accuracy should help reassure patients and families those improvements are both real and making a difference in improving lives," said Greg Crist of the American Health Care Association.
Impact Act to mandate inspections
The funds for this new electronic collection system have been made available thanks to a new bill, which was signed into law on October 6. The Improving Medicare Post-Acute Care Transformation Act of 2014 (Impact Act) is a bipartisan law that is intended to support better outcomes for patients, and facilitate patient education and self-advocacy. It has designated $11 million for the creation of new systems to enact the provisions of the law.
The federal healthcare law passed in 2010 did include a provision to electronically report staffing data for the nursing home rating system; however, it was never put into effect.
The Impact Act is also intended to improve transparency and care among home health care agencies and hospice programs. Medicare will now have the authority to evaluate hospice programs that are characterized by providing care to a significant percentage of patients for longer than six months. Typically, hospice programs are intended for patients that are expected to live for no longer than six months.