Botched Circumcision Leads to Malpractice Suit Against Pennsylvania Rabbi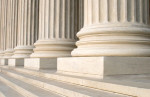 The parents of a boy who had his penis severed during a Jewish circumcision ceremony in April are suing the Pittsburgh rabbi who performed the procedure, according to Medical Daily.
The boy was just eight days old when Rabbi Mordechai Rosenberg, an Orthodox Jewish ritual circumciser, cut off part of his penis while attempting to circumcise him at the baby's bris ceremony. The parents of the boy, who required eight hours of surgery and other treatments to have the organ reattached, filed a suit against Rosenberg, claiming medical negligence.
Rosenberg performed the circumcision at a bris, a ritual circumcision performed on a baby boy signifying formal entry into the Jewish community, at the Tree of Life Synagogue in the Squirrel Hill neighborhood in Pittsburgh, Pa. in April. After the rabbi made too deep of cut on the boy's penis, the boy was taken immediately to the hospital where the severed organ was reattached.
Boy's parents file a medical malpractice lawsuit
The reattachment required eight hours of microsurgery, blood transfusions and leech therapy-leeches help promote blood flow and tissue regeneration, aiding in a body's acceptance of reattached parts; the boy was in the hospital for two months.
It is not known whether the boy, who is now about eight months old, will make a full recovery. Some doctors who have not treated the boy say reattaching parts do not always completely heal when the sections include nerves.
Rosenberg has publicly called the incident an accident and contests that he is trained to perform circumcisions. The boy's parents were upset to learn that Rosenberg continues to perform circumcisions.
Attorneys who are not involved in this case have said rabbis who perform ceremonial circumcisions, such as the one performed by Rosenberg, have no medical training. There are no laws regulating circumcisions that occur outside of medical facilities.
Statistics related to circumcisions
The number of parents who have opted to have their boys circumcised have dropped by about 10 percent during the last 30 years, according to the U.S. Centers for Disease Control and Prevention. The federal agency, which only viewed in-hospital rates, said about 58.3 percent of boys still get them done. Typically, hospitals perform the procedures when boys are about two days old. Those who follow Jewish law would not consider those circumcisions valid. Ceremonial circumcisions are performed by mohels, ritual circumcisers, when boys are eight days old.
Similar medical negligence lawsuit
In December, a mother filed a lawsuit in New York claiming a rabbi botched the circumcision of her son who had a penile birth defect.
Staci H. Altman filed a suit against Rabbi Eliyahu Shain who performed the bris on her son Benjamin in December 2009 at New York University Medical Center's Pediatric Associates of New York City. During the procedure, Altman claims Shain failed to notice that the boy suffered hypospadias, a medical condition in which the urethra grows on the underside of a penis.
Altman claims Shain's medical negligence has caused her son to suffer mental and physical pain.