Alleged Hospital Malpractice Causes Woman to Become Double Amputee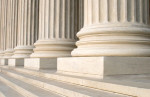 Trained medical technician Stacey Galette thought she was undergoing a routine procedure to remove an ectopic pregnancy at Long Island's Winthrop University Hospital in 2009.
Instead, she spent 73 days in the intensive care unit with blood poisoning and gangrene, went into cardiac arrest three times, lost her hearing as a side effect of powerful antibiotics, underwent a colostomy and skin grafts, and ultimately lost both her legs below the knee.
Today, the single mother of a 13-year-old daughter has prosthetic legs, but gets around largely by wheelchair. After filing a hospital negligence lawsuit, her lawyer argued that she continues to suffer the emotional, physical and financial toll of her surgery-gone-awry every single day.
Defense refutes hospital malpractice claims, stating plaintiff is "lucky to be alive"
The plaintiff should look on the bright side, said the counsel for Winthrop University Hospital. "Ms. Galette is alive today because the health care providers… listened to her complaints," they told a Brooklyn Supreme Court jury in an opening statement.
They went on to say that the plaintiff has made "a remarkable recovery" and will be able to reverse the colostomy and work again, leading a productive life. "Unfortunately, the treatment she needed had very serious side effects," the defense attorney argued.
Jury debates: was it negligence or acceptable medical practice?
The 33-year-old plaintiff's hospital negligence lawsuit blames the doctors for failing to detect a 5-millimeter hole in her colon, despite her fever, abnormal heart rate and reported pain immediately following the procedure. However, the doctors say they acted responsibly based on a CT scan, which did not reveal the puncture.
They also claimed the injury occurred after the procedure, due to an underlying bowel condition. A defense lawyer said that "even if it did occur during the procedure," it is a recognized risk that does not constitute as medical malpractice.
The five men and five women on the jury will deliberate over the next four to six weeks to determine whether hospital staff was negligent or not.
Family of the hospital negligence lawsuit victim speaks out
The surgery resulted in a life of "endless pain" and "total disability" for Galette, who also went through a divorce shortly after her medical mishap. "She has no life," said the woman's mother, Judith Romulus.
"She has a lot of damage. We see her every day struggle through life. We are basically raising her daughter, who is 13 and really needs her mom at this age." She added that the comments the defense lawyer made in his opening argument was "hurtful."
This month, the judge denied a request by the defendants to order a mistrial after a front page news story ran in the NY Daily News. However, both sides have agreed to refrain from making further statements to the media for the duration of the trial.
Medical malpractice is surprisingly widespread
More than a million people are injured at hospitals each year and roughly 280,000 people die from their wounds, according to a 1995 report published in the Journal of the American Medical Association. Surgical errors, improper drug dosage and administration, bacterial superbugs and poor care are a few of the numerous complications reported.