Preventable Surgery Deaths On The Rise, Says New Study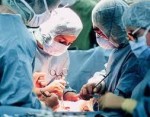 Preventable surgery deaths have increased 5 percent a year from 1998 to 2010, according to a new study published in the August 19 edition of the British Journal of Urology International. Researchers from the Henry Ford Health System in Detroit reviewed Nationwide Inpatient Sample hospital discharge data of 7.7 million patients undergoing low-risk procedures, including transurethral prostate resections and bladder biopsies. Even though admissions for urological procedures decreased half a percent each year, the number of preventable deaths still increased.
Why are preventable surgery deaths on the rise?
Researchers found that the problem was related to an increase in "Failure To Rescue" (FTR) deaths, which occur when a patient dies following a complication that should have been recognized or prevented by caregivers. According to NBC News, FTR is "the most reported patient safety risk" that is "little-known, but always-fatal." Between 2004 and 2006 alone, FTR claimed more than 188,000 lives – 128 deaths for every 1,000 patients at risk for complications, the newspaper reported. The latest study shows that little has changed over the past decade.
They also found that more healthy and affluent patients were relying on outpatient services for their procedures, so the poor, unwell, minority patients on public insurance tend are taking up a larger percentage of the inpatient treatments and tend to be the ones dying. Also, greater emphasis on coding may account for some of the increases, as health care providers become more aware of complications leading to death in their institutions.
What surgery complications are people dying from?
The most common recognizable or preventable complications identified in the study include:
Sepsis (blood poisoning)
Pneumonia
Blood clots
Shock
Cardiac arrest
Upper gastrointestinal bleeding during admission
Urology patients are particularly at risk
Overall, the risk of dying in the hospital is less than one percent, say researchers, but the increase in preventable surgery deaths in urology is still a problem. "While improvements in mortality and failure to rescue mortality are being made in the overall surgical population that is not the case for urology patients," explains the study's lead author, Dr. Jesse Sammon.
"It's worrisome," he continues, "that the odds of FTR-related deaths have risen over time for the most common types of urologic surgeries including ureteral stenting, treatment of enlarged prostate, bladder biopsies, removal of a diseased kidney and others."
Researchers found that preventable surgery deaths commonly occurred following:
Nephrostomy Tube Replacement (38%)
Foley Catheter Insertion (24%)
Nephrostomy Tube Insertion (18%)
Transurethral Resection of the Prostate  (10%)
Suprapubic Tube (8%), and
Ureteric Stent (3%).
What can be done about preventable surgery deaths?
Researchers hope that their findings will clue surgeons in on risk factors for fatal complications and spur changes in health care facilities across the country. Hospital staff must recognize that urology patients in general, as well as people with comorbidities and older age, are at higher risk of dying.
NBC News reported that increasing the nurse-to-patient ratio is one way to improve these worsening FTR numbers. The more "hands on deck" to assess breathing, circulation and bleeding after surgery, the better. In many cases, a handful of staff members are simply "overworked" – and errors occur.
However, just as important, are factors like education and experience – whether or not the staff members have the resources available to effectively do their jobs. In some facilities, the use of rapid response teams has cut the number of FTR deaths in half, as small groups of specialists rush to a hospital bed in response to several core triggers.
Meanwhile, to prevent complications, surgery patients should seek care at facilities that perform a large number of those particular procedures, which may require more travel, says Dr. Sammon.