Gallbladder Surgery Study Identifies Higher Risk Patients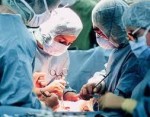 The gallbladder is an inessential organ and gallbladder removal is one of the most common surgeries performed, but a new gallbladder surgery study examines the effects of delaying surgery in certain patients after a severe gallstone attack. The results suggest that emergency room personnel should take a closer look at certain types of patients before discharge to prevent medical complications.
Gallbladder removal routine but not without risks
Removing the gallbladder can provide a number of benefits such as preventing gallstones and gallbladder cancer. In the past 20 years, gallbladder removal surgery has become quicker and easier. Since the introduction of laparoscopic surgery, the number of gallbladder removal surgeries each year has more than tripled, from 200,000 to 700,000. However, while many patients function quite well once the gallbladder is removed, certain patients experiencing a severe gallstone attack may need to have the gallbladder removed immediately at the risk of serious complications.
Younger gallbladder patients at higher risk for complications
The Journal of Surgical Research recently reported that Mayo Clinic researchers examined patients who visited the emergency room with gallbladder attacks. They determined that roughly one out of every five patients who was sent home from the emergency room to schedule a later gallbladder removal surgery soon returned to the hospital needing emergency gallbladder surgery.
The study reviewed 14 years' worth of billing records for adults who visited emergency rooms with gallbladder complaints and subsequently had the gallbladder removed. Older patients were more likely to be immediately admitted to the emergency room at the initial visit for cholecystectomy (gallbladder removal). But 20% of the discharged patients returned within 30 days – and more than half of those returned within a week – for an emergency gallbladder removal. These patients were also more likely to experience severe systemic distress.
The study noted that the patients more likely to return within one month for emergency removal fell into two distinct groups: those who were young and otherwise healthy patients and patients who were older and also had other health conditions. The patients in the 40s and 50s were least likely to return ahead of their scheduled gallbladder surgery. The implication seems to be that emergency room doctors should be looking more closely at those patients who fit the standard, including the higher-risk age brackets, as more likely to return for an emergency gallbladder removal surgery and face complications.
Emergency gallbladder removal is riskier than elective surgery
One reason that emergency room personnel should more carefully monitor gallbladder patients who they intend to discharge is that cholecystectomy is safer when it is performed as an elective surgery rather than an emergency. The mortality rate for an elective gallbladder removal is low – roughly 0.7 – 2%. But mortality rates are much higher when it is performed on an emergency basis; in ill elderly patients, it is as high as 19%.
It may seem unusual that younger patients face a higher risk of complications from cholecystectomy, but one of the complications of gallbladder surgery is pancreatitis, the inflammation of the pancreas. Pancreatitis occurs more often in younger adults than in the elderly. Other complications include more general surgical risks including related infection, bleeding, and abscesses.