Former Nurse Charged with Elder Abuse in Alabama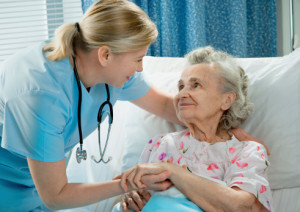 A former nurse has been charged with abusing a 96-year-old nursing home patient in Florence, Alabama. Labarbara Deshay Currin, 27, was arrested on December 9 by U.S. marshals and charged with nursing home abuse. Specific allegations include hitting the victim in the head numerous times and twisting her arm.
The abuse allegedly happened at the Glenwood Nursing Home in Florence on August 10, according to a report at the Times Daily. The incident was reported to law enforcement by officials at the nursing home immediately, but Currin was not located by U.S. marshals until December. The arrest was made in Pulaski, which reportedly was where Currin was currently living.
A Florence police detective, Kevin Jackson, told the Times Daily that it appears Currin got aggravated by the elderly patient and "just hit her." The woman was alleged to have knots on her head and bruises on her arm. The charges of elder abuse against Currin could result in 2-20 years in prison if she is convicted. Currently, Currin is out of jail on a $6,000 bond.
Prevalence of elder abuse
Sadly, incidents like this at nursing homes are not as rare as one might think. According to the National Center on Elder Abuse, recent studies show as many as one in 10 nursing home residents may be victims of some type of abuse. Another report at the Chronicle-Independent found that elder abuse may be grossly under-reported, suggesting there is much more abuse going on than what is on official records. In addition to abuse by care workers at the facilities, more reports are now surfacing about resident-to-resident abuse, which may go unchecked by staff.
There are many possible reasons for the abuse suffered in centers that are designed to provide care to the elderly population. Staffing shortages plague many facilities, leading to care givers that are overworked and stressed out. Many of the staff working in these centers may not have the proper training to care for challenging patients, leading to short tempers and a lower quality of care overall.
Impact of nursing home abuse
Abuse of frail, elderly patients can have a severe impact on both their quality of life and their life expectancy. The National Center on Elder Abuse stated that even moderate abuse leads to a 300-percent higher risk of death than no incidents of abuse. Elderly patients suffering abuse also tend to have more health issues than those that do not experience any type of abuse, including digestive problems, chronic pain, heart issues and depression.
Tragically, family members may not realize their loved one is being abused at the facility that has been entrusted with their care. Signs of abuse might include unusual bruising, weight changes, infections or poor hygiene. In some cases, patients may also show signs of physical or emotional withdrawal from others. Signs should be reported to nursing home management immediately and family members need to follow up with the center until they are satisfied the abuse concerns have been properly addressed to prevent a more tragic situation from occurring.