CMS Reports Reduction in Antipsychotic Use for Nursing Home Residents with Dementia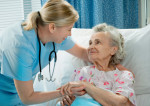 According to a recent report issued by the Centers for Medicare & Medicaid Services (CMS), initial goals have been met for reducing the use of antipsychotic drugs in nursing home residents suffering from dementia. A number of state-based coalitions, under the auspices of the National Partnership to Improve Dementia Care, sought to address the unnecessary use of antipsychotic drugs, in addition to other potentially risky medications, in long-term nursing home facilities across the nation.
Dementia is a common ailment among the elderly population, with symptoms ranging from memory loss and delusions to a rapid decline in cognitive skills and difficulty with speech. Aggression, depression and extreme agitation can also accompany more advanced stages of dementia, prompting some healthcare professionals to sedate or restrain residents with chemicals such as Risperdal and Seroquel – two antipsychotics that have been associated with life-threatening side effects.
Reduction in antipsychotic drugs in nursing homes
Health officials at the FDA have even cautioned that atypical antipsychotic drug use among elderly dementia patients may pose significant health risks, including cardiovascular injury or death. Those who are 65 years of age or older are more inclined to suffer symptoms of dementia, the bulk of which are caused by Alzheimer's disease or vascular dementia.
As more evidence is gleaned on the risks for antipsychotic drugs in senior dementia patients, efforts have been introduced to curb needless or avoidable prescriptions of these medications in long-term nursing home care centers.
On September 19, the National Partnership to Improve Dementia Care stated that the national prevalence of antipsychotic use in long-stay nursing home residents had been cut by 15.1 percent. The agency also announced that by the end of 2016 they intend to boost this reduction to 30 percent.
The press release included current data trends that indicate the rate of antipsychotic drug use, CMS noncompliance and/or deficiency citations and the use of psychopharmacological medications.
During a span of 21 months, the rate of nursing home antipsychotic drug use among long-term residents dropped from 23.8 percent to 19.8 percent across the country. CMS data shows that all 50 states made improvement, though some were more successful than others. Hawaii, North Carolina, Vermont and Georgia had the largest drops in antipsychotic drug use, while nursing homes in Nebraska, Wyoming and Illinois had the smallest decline in rates.
Medicare spends billions on antipsychotics
Medicare shelled out some $7.6 billion for antipsychotic drugs in 2011, though several studies suggest that these substantial costs have questionable benefits, especially for patients with advanced dementia. Some critics argue that use of antipsychotic drugs in nursing homes may constitute elder abuse, particularly in cases where the frail and incoherent residents are given medication solely to keep them quiet, or due to inadequate staffing issues.
As of 2008, the FDA mandated a new black box warning on all risperdone medications that states: " Elderly patients with dementia-related psychosis treated with antipsychotic drugs are at an increased risk of death. Risperdal (risperidone) is not approved for the treatment of patients with dementia-related psychosis."
For their part, the CMS and its partner organizations plan to continue enhancing the level of care in nursing homes and patients with dementia. Potential measures may include shifting from antipsychotics to hypnotics or sedatives and trying new approaches that don't rely so heavily on medications for dementia treatment.