U.K. Cerebral Palsy Lawsuit Results in Multi-Million Dollar Payout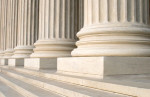 Eight year-old Ruby Curtis was left with brain damage and cerebral palsy after she was starved of oxygen during her birth at a hospital in Leeds. "While it's heart-breaking to see her unable to do so many of the things the majority of other children take for granted, we couldn't have asked for a more perfect daughter," said  the girl's parents who eventually filed suit against St. James Hospital, based on allegations of birth injury malpractice.
Following an arduous 8-year battle, the family was finally awarded a £2.95million payout, which equates to just over $4.7 million U.S. dollars. In addition to the High Court settlement, the parents will also receive annual payments, pushing their compensation to around $10 million.  After hearing evidence and testimony in the Curtis' cerebral palsy lawsuit, the multi-million dollar settlement was agreed upon to help ensure a more secure financial future for the child. The funds will help Ruby's parents cover her medical care and special schooling, and hopefully enable the girl to lead a somewhat independent life later on.
Oxygen deprivation caused newborn's permanent brain damage
According to Lisa and Steve Curtis, their daughter Ruby's cerebral palsy diagnosis is a direct result of oxygen deprivation during the child's delivery, when hospital personnel failed to recognize and promptly respond to complications. On August 28, 2005, Lisa was admitted to St. James Hospital for the birth of her child. Attending health care providers administered Pitocin to help bring on contractions, but purportedly failed to notice the mother's uterus had ruptured – a potentially dangerous complication that can starve a fetus of vital oxygen.
Since the delivery room team was slow to respond and deliver Ruby, her oxygen supply was limited, causing irreparable brain trauma.  Like many newborns who suffer brain damage, Ruby was later diagnosed with cerebral palsy – a neurological disorder that affects motor skills and can hinder cognitive development.
Ruby has athetoid cerebral palsy, a type of CP that affects muscle tone and movements in her arms, legs and trunk. With limited motor skills, the little girl gets about on her pink electric wheelchair, emblazoned with photos of her favorite U.K. band. Forty year-old Lisa Curtis stopped working so she could provide 24-hour care for her daughter, who is only able to make slurred vocal noises, but cannot speak. "Ruby is a fantastic little girl and we are so proud of her, she is such an inspiration to us both. I felt angry initially but I don't feel that now, because I love her how she is," said her mother.
Birth injury settlement offers hope of a better future
When the settlement was agreed upon, High Court Judge Mark Gosnell told Ruby's parents they had struggled many years in their efforts to properly care for their girl while continuing their legal pursuits. Their daughter's brain damage is so severe that she requires professional help in all areas of her daily care – not just feeding, but physical and occupational therapy, and special education. After learning of the settlement, Mr. Curtis commented that the money will mean that Ruby can continue to attend a wonderful school that gives his daughter one-on-one attention.
The settlement will also mean that Ruby's parents can return to work, knowing they can afford the best quality care available for their daughter. Prior to the payout, the hospital admitted the majority of responsibility for the girl's cerebral palsy birth injury – ultimately paving the way to the settlement negotiation.