Two Nurses Found Negligent in Cerebral Palsy Lawsuit, Jury Awards $32.8 Million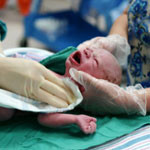 Two nurses who worked at a Pennsylvania hospital were held liable for $32.8 million in damages by a jury in a cerebral palsy lawsuit filed on behalf of a girl who suffered brain injuries during her birth.
The jury deliberated just nine hours before finding that the brain injuries of Lily Ciechoski were due to the negligence of two nurses who worked at Phoenixville Hospital, which is located about 30 miles outside of Philadelphia, at the time of her birth. The jury found that the nurses, Christine Winter and Lana Jones-Sandy, improperly failed to notify Lily's mother's doctor that the baby's heart rate had changed dramatically during labor, according to an article in the Delaware County Times. The nurses are no longer employed by the hospital.
The hospital and a third nurse who participated in Lily's delivery were cleared of any negligence in the case. Lily's mother's doctor was dismissed as a defendant during the trial.
Substantial birth injury malpractice award
This jury award may be one of the largest ever in Chester County, Pennsylvania. The county courts are not known for responding very favorably to medical malpractice suits. However, the substantial award is not unprecedented in the state; a Pennsylvania hospital was ordered in 2012 to pay $78.5 million in a similar case, in which a delayed delivery resulted in a baby being born with brain damage.
Details of the cerebral palsy lawsuit
Leslie Proffitt, Lily's mother, was admitted to the hospital to have the baby on Nov. 13, 2009. She was near her due date when she went into labor. In the early morning hours of the next day, the baby's heart rate dropped from a normal 150 beats per minute to 60 beats per minute. The dramatic change in heart rate likely was due to a bend in the umbilical cord, stopping oxygen from getting to Lily's brain.
Nurses Winter and Jones-Sandy saw on the monitor that the baby's heart rate had dropped, but did not tell anyone about it, according to the article. The heart rate had been at the lower rate for more than 10 minutes, when the doctor came in, saw it and ordered the nurses to notify their supervisor and an anesthesiologist that an emergency cesarean section needed to be performed.
A supervisor was not contacted until 19 minutes later and an anesthesiologist was not found until seven minutes after that. Lily was not delivered until more than 40 minutes after her heart rate dropped significantly. During the two-week trial, medical experts testified that Lily would have suffered no or minimal brain damage if she was delivered 15 to 17 minutes earlier.
Lily suffers from spastic quadriplegic cerebral palsy, which is the most severe type of this neurological disease. Those who suffer with this type of cerebral palsy often have moderate to severe intellectual disabilities. Lily, who is 4, can take just a few steps, speaks very little and has trouble controlling her neck.