Parents Sue Hospital Over Newborn's Birth Injuries, Including Cerebral Palsy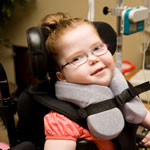 The parents of a child suffering from brain damage have brought a personal injury cerebral palsy lawsuit against the hospital staff that delivered their baby. The plaintiffs allege that their newborn's injuries were the result of Utah Valley Regional Medical Center and its staff misdiagnosing evidence of fetal distress and other issues that took place during the mother's labor and her son's delivery. The injuries caused their baby to be born with a variety of serious injuries, including hypoxic brain injury, cerebral palsy, and brain damage, the lawsuit alleges. Hypoxic brain injury is a birth injury resulting from a lack of oxygen.
The parents are seeking general and special damages, interests, and costs in this cerebral palsy lawsuit, which was filed on March 15, 2013 in U.S. District Court, District of Utah (Central) and brought against IHC Health Services (doing business as Utah Valley Regional Medical Center) and the United States of America.
Cerebral palsy lawsuit allegations
The baby's parents allege medical negligence by United States government employees in the care and treatment of their baby, and also name Pahl G. Bench, M.D. and Mountainlands Community Health Center, Inc. The lawsuit is also a tort action against IHC Health Services for birth injury malpractice.
The baby was born at Utah Valley Regional Medical Center. According to the complaint, issues and signs during his delivery indicated that he was in fetal distress. The lawsuit alleges that these signs were either ignored or overlooked by the staff at the hospital. Some signs of developing and ongoing fetal distress were obvious on the electronic fetal monitor strip and were either undiagnosed or misdiagnosed, according to the claim. Because of this alleged negligence, the baby suffered an hypoxic brain injury and is now severely, multiply handicapped.
The cerebral palsy lawsuit also alleges that the baby suffered from grave permanent disabilities that include catastrophic brain damage, irreversible spastic quadriplegia, blindness, deafness, the inability to speak, and severe development delays, all due to the employees' negligent acts and omissions. Irreversible spastic quadriplegia is related to cerebral palsy and involves all four limbs.
The alleged actions of the medial and nursing personnel occurred while the staff were employed by either the USA or Utah Valley Regional Medical Center.
Damages sought in birth injury malpractice lawsuit
The lawsuit indicates that a legal duty was owed to the baby's parents to exercise appropriate care and treatment to the infant consistent with care and practice standards followed by health care providers in their fields. The lawsuit alleges that this duty was breached, which led to the baby's injuries, pain, and anguish.
Because of the alleged injuries, the child must seek ongoing medical care and treatment. The lawsuit seeks past and future damages, before and after the child's age of majority, to cover costs for medical treatment and health care, and increased costs of maintenance. The suit also demands damages for disfigurement and impairment of bodily functions.
The lawsuit also seeks future damages for impaired earnings, and past and future damages for compensated and gratuitous care and services. These include attendant and nursing care, physical and speech therapy, and other care and assistance. Damages for pain and anguish and for loss of enjoyment of life, as well as the plaintiffs' costs involved with the cerebral palsy lawsuit, including interest, are also being sought.