Jury Awards $8.4 Million in Cerebral Palsy Lawsuit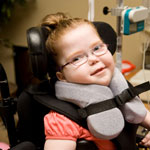 A jury in Georgia has awarded $8.4 million to the plaintiff in a cerebral palsy lawsuit against Northeast Georgia Medical Center. Jakob Medley was diagnosed with cerebral palsy after his 2008 birth was delayed and Medley required immediate resuscitation after he was delivered. The lawsuit was filed by his grandmother and legal guardian, Rachel Lewis, in Hall County State Court.
Both Northeast Georgia Medical Center and Longstreet Clinic were listed as defendants in the complaint, but Longstreet Clinic was absolved by the jury of any fault in the case. The jury did determine that Northeast Georgia Medical Center was liable for Medley's birth injuries.
Birth delays lead to injuries
According to the lawsuit, it was delay in Medley's birth that led to his brain injuries, including cerebral palsy, developmental delays and disfigurement. Although monitoring during labor showed the newborn was not receiving sufficient oxygen, a Cesarean delivery was not performed. In addition, a much needed breathing tube was not inserted for a full eight minutes after Medley's birth due to unavailability of the hospital's neonatal resuscitation team.
As a result of oxygen deprivation during and after his birth, Lewis alleges Medley now suffers from severe injuries that will prohibit him from walking and talking for the rest of his life. In addition, Medley requires round-the-clock medical care, due to his significant brain damage and the fact that he must be fed through a feeding tube in his stomach.
$8.4 million largest in court history
The $8.4 million award is thought to be the largest in the history of Hall County State Court. The compensation will be placed in a trust to cover Medley's lifetime of medical care. The hospital stated after the verdict that it was surprised by the jury's decision and will decide whether to appeal the verdict.
Oxygen deprivation and brain damage are some of the top risks associated with the labor and delivery process. Risks tend to be increased when the baby is unusually large, labor is very long or difficult or vaginal delivery does not progress as planned. Cerebral palsy is just one of the neurological disorders that can occur when the baby is deprived of oxygen during labor and delivery.
About cerebral palsy
Cerebral palsy is a condition that originates in the brain and leads to lack of muscle coordination, exaggerated reflexes and difficulty walking. The condition cannot be cured, although treatment can sometimes improve function and capability. Many different treatment methods may be used to manage the condition, including medications, physical and occupational therapy, orthotic devices or surgery.
Treatment for cerebral palsy often takes place over a lifetime and can be very expensive for the family. The financial strain, coupled with the physical and mental stress caused by the condition, can take a drastic toll. Some families seek legal compensation if they believe the damage can be attributed to malpractice or negligence on the part of the hospital staff during the birth process.
In this cerebral palsy lawsuit, Lewis was able to successfully argue her case against Northeast Georgia Medical Center. While the jury verdict will not change the circumstances of Medley's condition, it can give the family the financial resources necessary to properly care for Medley for the rest of his life.