Long Island Family Wins $130 Million in Birth Injury Lawsuit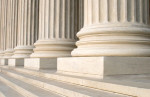 Following a draining, 10-year legal battle, New York residents Danni and Frank Reilly were awarded $130 million in damages for medical mistakes that resulted in their daughter's severe form of cerebral palsy.  The now ten-year old girl is a prisoner in her own body, according to her parents' attorney – her condition a grim consequence of brain damage during delivery. The family first filed their birth injury lawsuit against St. Charles Hospital in Port Jefferson, Long Island. The suit alleged medical negligence was the root of daughter Shannon's brain trauma and resulting cerebral palsy (CP).
Typical of many birth injury cases, the hospital offered an $8 million medical malpractice settlement just before the case was to be tried before a jury. However, the family's attorney advised them against the settlement, arguing that $8 million wouldn't cover the astronomical costs associated with caring for a child with CP.
Birth injury lawsuit nets family $130 million
Instead of accepting the hospital's settlement offer, Danni and Frank Reilly took their chances and opted for trial, based on the advice of their medical malpractice attorney, who says his earlier rejected settlements always netted larger awards and payouts for his clients. But in 2009, the odds were not in their favor, as the jury ruled on behalf of the defendant. Undeterred, the Reilly's lawyer filed an appeal, claiming the jury verdict was "irrational" and didn't consider the overwhelming evidence, which demonstrated that attending health care providers hadn't followed proper procedures with monitoring fetal health in Shannon prior to her delivery.
After the appeals court granted the Reilly's a new trial, their hearing culminated with a hung jury. But after their second retrial in Suffolk County Supreme Court, jurors handed down the $130 million verdict – making it the second largest malpractice award in New York history. In a public statement following the trial, Frank and Danni Reilly said, "The agony of the last 10 years has finally ended. Our beloved daughter will be protected for the rest of her life."
Lifelong costs of cerebral palsy in the millions of dollars
The massive verdict "will enable Shannon to get the care and therapies that she not only needs but deserves, and will give this girl a fighting chance to escape the shackles that trap her," said the family's attorney.
The Centers for Disease Control and Prevention (CDC) estimates the lifetime economic costs associated with raising a child with CP to be more than $1 million. In reality, this figure is much greater, because it doesn't account for other factors and expenses including emergency room visits, out-of-pocket expenditures and lost income of family members who care for the child with CP. Depending on the severity and classification of CP, a child may require physical and occupation therapy, special schooling, medication, hearing aids, vision surgery, medical equipment and in-home 24-hour nursing care.  Such therapies and treatments can be an extreme financial burden on the entire family, making them especially vulnerable to medical bankruptcy.
The Reillys, like hundreds of other families who've pursued a successful birth injury lawsuit, will rely on these funds to offer the best possible care to their special needs daughter.