Lawsuit Alleges Delivery Negligence to Blame for Child's Permanent Disability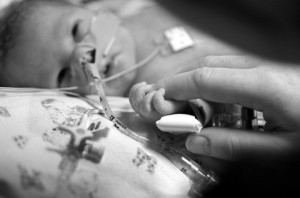 In a complaint recently filed in the U. S. District Court for the Southern District of California, a mother is alleging that medical negligence on the part of labor and delivery staff at the Naval Medical Center in San Diego, CA during the birth of her son led to severe injury and what will likely be permanent disability.
As a result, she is seeking substantial financial compensation that includes payment for past, present and future medical expenses, the future cost of medical monitoring and continuing care, pain and emotional distress, attorney fees and more.
Background of allegations
According to the complaint in this case, the plaintiff mother presented to the clinic facility of the Naval Medical Center at roughly 2:00 p.m. on February 26 of 2013 reporting contractions as well as vaginal bleeding that had begun several hours prior. At that time, she also complained that she had been experiencing a marked decrease in fetal movement. By 4:00 p.m. that day, the plaintiff had been admitted to the hospital for early onset of delivery, given that she was only at 33.5 weeks' gestation and also to check for potential premature placental separation.
Despite the fact that the plaintiff had already been classified as a high-risk case and had experienced two prior premature deliveries, she was not placed under continuous monitoring for fetal distress by the attending staff at the Naval Medical Center. By 8:00 a.m. on the morning of February 28, it had become evident that immediate delivery was indicated, due to foregoing sequence of events and information included in the patient's medical chart. For a reason that is not known, the doctors attending to the plaintiff did not deliver her infant until approximately 10:45 that morning.
Child suffers irreversable brain damage
The lawsuit claims that as a direct result of the failure of the physicians and staff to continuously monitor and reassess the condition of the plaintiff and her unborn child, despite the former's history of labor and delivery complications, the child suffered hypoxic ischemic encephalopathy and now exhibits significant brain damage and attendant deficits.
The plaintiff argues that her son will likely suffer serious pain and emotional distress due to the harm he has sustained, will have lost substantial earning capacity over the course of his lifetime and will likely require ongoing medical care and other costly interventions.
Hypoxic ischemic encephalopathy and physician negligence
Also known by the name intrapartum asphyxia, hypoxic ischemic encephalopathy develops when a baby suffers a significant deprivation of oxygen during labor and delivery. The condition often results in cerebral palsy as well as profound developmental delays of other types including severe motor impairment. In some cases, the true degree to which a child has been harmed does not reveal itself until they have reached their toddler years.
Given the severity of the damage often done as a result of this type of birth injury, families must be prepared to face a future involving massive medical expenses, special education costs and other types of financial burdens they may be ill-prepared to meet.