Maine Sees Drop in Medical Malpractice Claims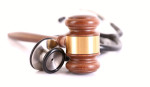 A major medical malpractice insurer in Maine says that claims have plummeted more than 50 percent over the last ten years, due to enhanced patient care and better doctor-patient communication. Medical Mutual Insurance Co. insures most of the state's hospitals and more than 3,000 doctors. The company's vice president of marketing and administration, John Doyle, says it paid out fewer than 200 medical malpractice claims in 2013 – a sharp drop from 434 claims back in 2003.
Doyle cites various factors for the drop in med mal claims last year, including better teamwork and communication to treat patients more effectively. This emphasis on quality care has been vital, according to Medical Mutual CEO and President, Frank Lavoie. "The fact is, you, the physicians and surgeons we insure, have effectively driven rates down by providing high quality care and emphasizing patient safety within your practices," Lavoie said.
Maine sees drop in medical malpractice claims
However, one of Maine's top medical malpractice attorneys says that the system is stacked against plaintiffs, many of whom have legitimate claims. In an article published in Bangor Daily News, he contends that a state law passed in 1986 favors physicians over patients. The legislation transformed the landscape of medical malpractice litigation, says Sweet, by facilitating a "doctor-oriented screening system" that inhibits many lawsuits from heading to the courts.
Before making it to a jury, every med mal claim in Maine goes through an intensive pre-litigation screening. During this process a hearing is presented in front of a panel comprised of at least one physician that practices in the same specialty as the defendant. The purported result is a slightly biased forum for the defendant doctor.
The attorney also points out that this pre-litigation process is also extremely costly for the claimants, and essentially doubles the amount of time and expense invested. For some plaintiffs, this can drag out for many months, racking up legal and investigative fees in the hundreds of thousands of dollars. Sweet argues that many patients who have legitimate claims alleging medical malpractice just can't afford the process.
"These cases are very aggressively defended by highly specialized lawyers. What this law has had the effect of doing is to drive out anyone who isn't as sophisticated and well financed as the defense lawyers,'" Sweet told Bangor Daily News.
Does law prevent frivolous med mal lawsuits?
An attorney for Medical Mutual counters that Maine's 1986 law was intended to prevent frivolous or claims without merit from clogging up the courts. In terms of litigation costs, most reputable medical malpractice lawyers take cases on a contingency basis, which alleviates any financial risk to plaintiffs since they pay a percentage of the settlement or jury verdict recovered, rather than up-front attorney costs.
Since contingency-based attorneys only get paid once their clients secure compensation, they may only accept claims that are strong with clear merit, and that stand a good chance of substantial financial recovery.
As is stands, Maine residents on the receiving end of hospital or doctor negligence must have a viable and compelling claim to withstand the pre-lawsuit screening process. Some say the system creates a fair basis for evaluating the merits of patient's allegations, while others assert the process is entirely doctor-oriented.