Alabama Couple Receives $6.7 Million Medical Malpractice Jury Award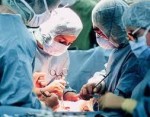 An Alabama man and his wife were awarded $6.7 million in a medical malpractice jury award. The lawsuit, which started a ten-year legal battle, was filed due to severe complications from hernia surgery that resulted in perforation of Thomas Jackson's intestines. The perforation led to infections, four more surgeries, and lifelong limitations for Jackson.
Thomas and Linda Jackson filed their medical malpractice suit against Dr. Kenneth Goldman and Surgical Associates of Columbus, Alabama, on December. 30, 2003 in Muscogee County Superior Court.  They alleged that during a four-hour operation on January 17, 2002, Goldman perforated Jackson's small intestine and failed to repair the damage. This left Jackson to suffer an abdominal infection that left him bedridden in intensive care for nearly six months.
The plaintiffs filed medical malpractice suits against The Medical Center in Columbus and Dr. Vincent Nicholais, who headed the hospital's intensive care unit. The hospital settled with the Jacksons and the jury found Nicholais was not at fault.
Undiagnosed infections result in lifelong disabilities
The plaintiffs' attorney said Goldman noted during the surgery that he had penetrated the outer layer of Jackson's intestine, but did not think the perforation deep enough to cause a leak, so didn't take action at the time. Jackson's condition worsened immediately after the operation. Two days after the operation, Jackson's organs began to fail and he needed a ventilator to breathe. The plaintiffs contended defendants should have known the cause of the problem the day after the operation.
Goldman did not discover the problem until another doctor suggested an infection was the cause, four days after surgery. Goldman performed a needle aspiration to draw fluid from Jackson's abdomen, which showed a leak in his small intestine. Though the perforation was corrected that day, the infection had spread. After that second surgery, Jackson went back to intensive care in critical condition, his abdomen under so much pressure from the infection that doctors had to cut and leave it open for days to relieve the strain,
Three more surgeries followed.  Jackson was bedridden so long that he sustained deep bed sores that penetrated the muscles of his back.  He had contractions in his legs that have left them permanently bent. Jackson had 2½ years of physical therapy afterward and relies partially on a wheelchair due to limited use of his legs.
Patient forced to retire, mobility permanently impacted
Jackson was 57 years old when he had the 2002 surgery.  For 32 years he worked as a millworker and put in 12 hours the day before his operation. The crippling effects of his long hospital stay forced him to retire.  Jackson's lingering disabilities also substantially reduced his mobility at his home on 12 acres of property in Salem, Alabama.  Before his surgery, he used to garden, build metal structures and weld. Now 69, he uses a powered wheelchair and a four-wheeler to get around on his property.
The malpractice jury award on November 13, 2013 of $6.7 million was split between husband and wife, with Thomas Jackson awarded $5.2 million and his wife $1.5 million.