NY Patient Wins $2.3 Million Hospital Malpractice Suit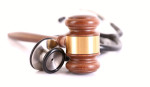 When 52-year-old John Antonucci of Valley Cottage New York checked into Nyack Hospital four years ago, he had no idea that an undiagnosed condition would leave him permanently disabled and in constant pain. The New York resident had sought follow-up care from Dr. Jason Fond, who was the head of Nyack Hospital orthopedic surgery. Unbeknownst to Antonucci, he had contracted a bacterial infection from an injection that was administered at Hudson Valley Radiology Associates a few days earlier, but after a speedy consultation with Dr. Fond, he was sent home without antibiotics or a definitive diagnosis.
Last month jurors in a hospital malpractice lawsuit, brought in 2011, found the Nyack hospital surgeon liable for medical malpractice and awarded Antonucci $2.3 million in compensation.
$2.3 million hospital malpractice verdict
The trial lasted three weeks before the Rockland County jury handed down their verdict. During the trial, it was alleged that during Antonucci's 25-minute consultation with Dr. Fond, the surgeon had access to test results that showed his patient had a severe bacterial infection, which needed immediate medical treatment. With no antibiotic drugs to halt their effects, the bacteria continued to reproduce and spread throughout Antonucci's system, and just two days later he was so crippled by pain that he was rushed back to the hospital in the early hours of the morning.  By that point, the damage had been done, as doctors discovered the infection had compromised the tissue and bone in his hip, necessitating a complete hip replacement procedure three months later.
According to the LoHud Journal News, the jury cleared fellow surgeon Dr. Barry Kraushaar of any misconduct, but determined Fond had exercised negligence in the case. Legal counsel for Dr. Fond has yet to comment on the outcome of the hospital malpractice lawsuit.
Antonucci's attorney says his client is now "…disabled from his work in construction and he is limited in almost all the activities he used to enjoy before… He was the guy everybody wanted to hang around with, and now he's not." The missed diagnosis highlights the inherent risks faced by patients who put their trust in medical professionals, who are responsible for providing a certain standard of care.
"Doctors shouldn't take needless risks that endanger their patients by prematurely discharging them," commented the plaintiff's lawyer, adding "Patient safety requires that there be a follow-up on test results, especially when a misdiagnosis is likely to result in substantial injury."
How common are missed diagnoses?
Missed and misdiagnoses are seldom reported because there is no efficient system or database for logging such events in U.S. hospitals. However, experts speculate that the percentage of missed or misdiagnoses compared to correct ones hover around 40 percent. The consequences of either can be catastrophic or even fatal, since patients are either given no treatment or the wrong treatment for an unrelated condition.
Research performed by Brigham and Women's Hospital published in JAMA Internal Medicine revealed that the majority of malpractice suits center around misdiagnoses – with delayed or missed diagnosis accounting for 72 percent of the claims. According to the study, some 21 percent of litigation involved health care specialists and more than 35 percent were filed against primary care doctors.