Report on Childbirth Safety & Inconsistent Obstetric Practices in the US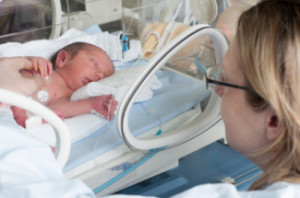 We've come to believe that our global standing in major categories—health care, finance, education, and so on—is without peer. Thus, it's surprising to learn that in a category as basic as childbirth and infant safety, the United States has a woefully poor record. Statistically, we lag far behind other countries in maternal and infant safety, and our numbers continue to trend in a negative direction.
A report put out this month by Public Citizen, the nonprofit watchdog organization which represents consumer interests on a broad range of issues, details a disturbing lack of consistency in US medical care systems, protocols, and "best practices" when it comes to childbirth. It claims that these inconsistencies are, in large part, responsible for an infant mortality rate twice that of France, Italy, and Germany and three times the infant mortality rate of Japan.
US maternal mortality rates still high
Also disturbing is that while most countries in the world have seen a drop in maternal mortality rates, the US is one of the few countries in the world that is experiencing a rise in maternal death rates as well as a marked rise in cesarean deliveries.
A study published in The Lancet in 2014 reported that the maternal mortality rate in the United States increased 49 percent between 1990 and 2013. The United States was one of only eight countries out of 188 measured in the study to experience an increase in maternal mortality over the preceding decade, falling from 22nd in the world in 1990 to 60th in 2013, among the worst among developed countries.
Rise in birth injuries corresponds to rise in C-section deliveries
According to the Public Citizen report, "Overwhelming evidence indicates that babies born by cesarean delivery experience significantly greater risk of health complications compared to babies born vaginally. These include, "… significantly higher rates of respiratory complications…including severe breathing problems (respiratory distress syndrome), retained fluid with moderate breathing, infections, and prolonged neonatal intensive care unit length of stay."
Despite that, cesarean use in the US has risen from 21 percent of deliveries in the mid-1990s to nearly 33 percent in recent years. The World Health Organization (WHO) in 1985 wrote, "There is no justification for any region to have cesarean rates higher than 10-15 percent."
Even given that, studies still conclude that cesareans are sometimes initiated for reasons other than medical: the convenience of either the doctor or patient, or compensation for providers. Cesarean deliveries are more expensive but faster and can be scheduled. In fact, some doctors prefer them to the extent that 1 out of 4 patients felt that they were "being pressured" by their physician to have a cesarean rather than a vaginal birth.
Lack of consistent OBGYN practices a major concern
Obstetricians and other health care quality specialists have developed several strategies for their teams aimed at reducing adverse outcomes in childbirth.
These practices fit into three broad categories:
Conducting training in communications and empowering all employees to speak up if they perceive an unsafe situation.
Implementing "bundles," or groups of essential practices that must be used in scenarios posing special risks, such as when inducing labor.
Reducing unnecessary cesarean section deliveries.
By employing these strategies and others, major US health organizations like Hospital Corporation of America, New York Presbyterian-Weill Cornell Medical Center, Ascension Health, and Premiere, Inc., are enjoying extreme success and a rapid drop in birth injuries and maternal mortality rates.
James Battles from the Agency for Healthcare Research and Quality says that "…bundles, communications training, simulations and teamwork practice are the 'magic sauce' to managing unexpected perinatal events in a way that minimizes the likelihood of bad outcomes."
Efforts to reduce adverse outcomes in childbirth not enough
However, Stanley Davis, a formerly practicing obstetrician who now teaches TeamSTEPPS, a communications tool for hospitals, says that decision makers "would rather buy another robotic device" (which generates revenue) than pay for communications training.
In addressing a failure to implement constructive steps to reduce birth injuries in a 2004 study, the Joint Commission, which accredits hospitals to be eligible to receive Medicare funding, described organizational culture issues as "hierarchy and intimidation, failure to function as a team, and failure to follow the chain-of-communication." On the culture, Davis said, "Efforts to change communications practices in the delivery room are hindered by deeply ensconced traditions in the culture of medicine, such as a view that the "doctor is a demigod who should not be questioned."
Between 44,000 and 98,000 U.S. patients are dying every year because of avoidable medical errors, according to a 1999 Institute of Medicine report.  Among the IOM's conclusions was that most medical errors are caused by "faulty systems, processes, and conditions that lead people to make mistakes or fail to prevent them." Experts believe that tragic mistakes will continue to occur in places where recommended strategies are not yet implemented.
A spokesperson for The American Congress of Obstetricians and Gynecologists said, "We recognize that the U.S. maternal mortality rate has worsened in the last 14 years, and we need systemic change that will help address that and turn the tide back in the direction of women's health. This means preventing early-elective deliveries, redefining term pregnancy to encourage longer gestation, letting women labor longer before initiating a cesarean section, and more. This can be done, but it requires a deliberate, individualized approach to implementation that helps each care facility, birth team and individual health professional provide the best care possible to patients."