Hyperbilirubinemia Lawsuit Filed over Brain Damage to Infant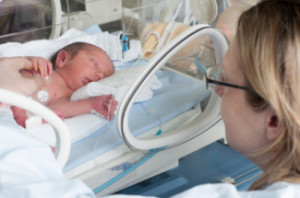 A hyperbilirubinemia lawsuit has been filed in the U.S. District Court of the District of Puerto Rico over the damage suffered by an infant due to the alleged sub-standard care he received from medical professionals associated with Presbyterian Community Hospital in San Juan, Puerto Rico. The complaint was filed on January 23 by the parents for themselves and on behalf of their minor son, who suffered the injury in question
Medical records referenced in the complaint indicate that the mother of the infant had a normal pregnancy for the most part, with no drug, tobacco or alcohol use reported. However, poreinuria was detected at each visit and a urinary track infection was discovered at one point when a urinalysis came back positive for staph saprophyticus. She was admitted to the hospital on June 3, 2013 and delivered the baby that day at 5:55pm. The infants Apgar scores were strong and he generally appeared to be in good health.
However, a nurse's note on June 5 indicated that the baby had a yellowish color, indicative of jaundice. From that time forward, as the complaint details, several instances of negligent and substandard care regarding this condition resulted in extreme brain  damage from the untreated levels of bilirubin in the baby's bloodstream.
Birth trauma lawyers contacted over lapses in standard of care
In the weeks and months that followed, the complaint outlined the lapses in care that resulted in the baby's permanent injury.
First, no bilirubin tests were administered following the notation of yellowish tone and the infant was discharged "improperly and prematurely." The mother was given inadequate instructions regarding follow up care. The mother attempted to bring her child to the clinic twice (June 7 and 8) for follow-up care and found that it was closed. Again, she attempted to bring the baby on June 10 and was sent home without seeing a doctor. A test was administered on June 11, but the results were not available until the next day.
On June 12, the child was hospitalized for severe hyperbilirubinemia, urosepsis and possible septicemia. The bilirubin levels were brought down after 6 hours of treatment and the baby was discharged on June 21. He was again hospitalized on July 25 for fever, but sent home before blood and urine lab results were available and was not given antibiotics. On July 30, he was found to have an intestinal infection (enterococcus faecalis).
Birth trauma lawyers representing the plaintiffs argue that several actions taken (or not taken) by the doctors, including but not limited to failure to assess and treat bilirubin levels, to perform follow up care and tests, to provide instructions, to admit the baby to the hospital for necessary care, and to treat the urinary tract infection, contributed to the minor's brain damage at birth.
Brain damage allegedly resulted from inadequate treatment
The child was evaluated for developmental delay on Feb. 18, 2014 because he was not sitting or crawling, had reduced head control, and decreased muscle tone. The evaluation ended with a conclusion that the minor plaintiff "… sustained hypoxic ischemic encephalopathy as a consequence of hyperbilirubinemia and currently suffers from static encephalopathy with permanent neurological damages, including motor, cognitive and behavioral problems secondary to the brain damage."
Due to his severe impairment resulting from brain damage at birth, the child will require a lifetime of intensive care. The plaintiffs are suing for a total of $12 million to cover the costs of this long-term care, as well as compensation for their own pain and suffering at seeing their child sustain such profound injuries.